Yokogawa Distributed Control System (DCS)
A distributed control system (DCS) is a platform for automated control and operation of a plant or industrial process. A DCS combines the following into a single automated system: human machine interface (HMI), logic solvers, historian, common database, alarm management, and a common engineering suite. Over 10,000 plants entrust Yokogawa's DCS to deliver their production goals.
A
Yokogawa DCS
delivers critical operational infrastructure and enhanced business performance. Key benefits include:
1)Simple, fast, and low-risk upgrades – 40+ years of backwards compatibility
2)Highest field-proven system uptime
3)Extensive advanced application portfolio
4)Service and consulting to ensure benefits throughout your lifecycle
CENTUM VP
CENTUM VP has a simple & common architecture consisting of human machine interfaces, field control stations, and a control network. It supports not only continuous and batch process control but also manufacturing operations management.
CENTUM 40 year history
CENTUM history Nearly 40 years and still counting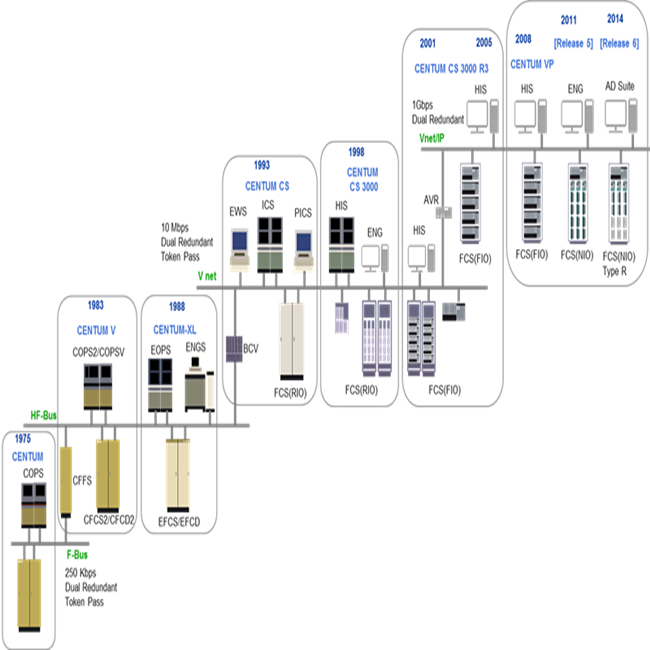 Field Control Station (FCS)

For over 40 years, Yokogawa has been developing and delivering stable, high quality CENTUM systems. All the CENTUM series field control stations (FCSs), both software and hardware, have been developed by Yokogawa. CENTUM VP can be flexibly designed ranging from small- to large-scale.
The CENTUM VP controller is capable of handling a massive amount of field data at comfortable speeds that fully satisfies the needs in the field digital era.
Both the controllers and I/O node units can be placed in remote, classified locations (IEC Zone 2/Class I Div. 2) which saves installation cost.
We know single bit of software and hardware to maintain a 99.99999% availability service record.
Reliable Controller
The CENTUM VP controller features outstanding processing performance and a large application storage capacity, yet inherits the same quality and stability that are the hallmark of the CENTUM series. Processor modules, power supplies, I/O modules, and communication buses all support redundant configuration.
The latest release of the controller has been optimized to take full advantage of advancements in field digital technology that will help plants operate with increased efficiency and stability. A high speed remote I/O unit enables connecting controllers over remote site up to 50 kilometers via optical fiber cables.
Digital Field Network Support
CENTUM VP supports a wide variety of communication interfaces and digital field networks such as FOUNDATION™ fieldbus, PROFIBUS-DP, Modbus RTU, Modbus CP/IP, and DeviceNet. Device diagnosis communication and SOE functions are enhanced. Changes in the mechanism to access device data have contributed to reduce loading to the main processors and improves the performance of the plant asset management software, Plant Resource Manager (PRM).
Pair and Spare Architecture
This is a unique feature of the CENTUM series that improves the stability of process control. Each processor module has redundant CPUs that execute the same computations simultaneously. Their outputs are constantly compared and a bump-less switchover to the stand-by processor module is initiated if any anomalies caused by electronic noise or other phenomena are detected. This minimizes the likelihood that errors will have any impact on process control. Our pair & spare technology is the key to achieve the 99.99999% of availability.
N-IO (Network I/O)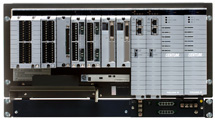 N-IO (Network I/O), the next-generation software configurable smart I/O, reduces footprint, lowers marshalling costs and allows flexible I/O binding. Matched with the FieldMate Validator, our commissioning tool, this allows for significantly faster project completion and reduced costs without compromising on quality.
Universal I/O and Software Marshalling
N-IO has AI/AO/DI/DO in each I/O channel. Each I/O channel can be changed to other I/O types by software programming.
Adapter (Built-in Signal Conditioner)
N-IO implements a wide variety of built-in signal conditioners on its baseplate. In most cases, there is no need to prepare external signal conditioning or the additional space this requires.
Redundancy
The same N-IO baseplate supports both single and dual redundant formations, eliminating the need for multiple hardware/software vendors when implementing redundancy.
Intrinsically Safe Barriers
The N-IO baseplate supports Intrinsically Safe I/O barriers.
FIO (Field network I/O)
FIO (Field network I/O) is a series of low-cost I/O modules which have been developed to improve packaging density. The large available range of modules enables you to configure your system to match the requirements for process signals, and to provide for different levels of isolation.
Isolation types
Non-isolation, isolation (all channels are collectively isolated), and isolation (each channel is individually isolated)
Field connection
Pressure clamp (Weidmuller), dedicated terminal boards, and MIL cables
Environmental resistance
Class G3 corrosive gas and a wide range of operating temperatures
Hazardous area classification
Type N and non-incendive protection provided as standard. I/O modules with a built-in intrinsic safety barrier available.