CATEGORIES
Latest news
Contact us
ADD: UNIT A1.9/F SILVERCORP INTERNATIONAL TOWER707-713 NATHAN ROAD MONGKOK KOWLOON HONGKONG;
TEL: 86-027-85508558,86-15871691193
FAX: 86 027-85309780
E-mail: sales1@hkxytech.com Jackie@hkxytech.com manager@field-instrument.com

  > ABB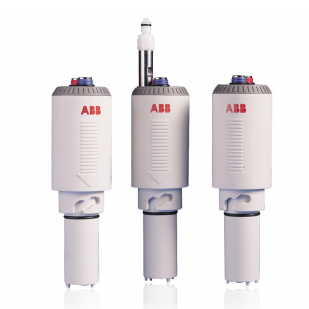 ABB AP101 Series pH sensors ABB AP101
Product Model:AP101
Country of origin:Germany
Delivery time:6-8 weeks
Weight:2Kg
Product Description: We have competitive price and sepecial discount on ABB.Pls feel free to send us inquiry to confirm that.
Product introduction
ABB AP101 Series pH sensors ABB AP101
Description
ABB AP101 Series pH sensors ABB AP101
pH/Redox (ORP) cartridge sensors with water-wash option
Double-junction PTFE Reference – a key feature to minimize
the risk of blocking of the junction and protect against poisoning
Supplied ready-to-go – fitted with a wetted teat to ensure the
sensor is in optimum condition and requires no preconditioning
prior to installing and commissioning.
Small-bore flow systems – ideal for applications where only
small sample volumes are available (between 100 and 500
ml/minute [0.176 and 0.88 pints/minute]) for continuous
analysis. These flow systems are offered in a choice of two
materials, stainless steel and Delrin, both widely used on low
conductivity water. Being small and compact they help to keep
the panel size to a minimum when used on multi-parameter
packages and are a very cost effective solution.
Low resistance glass – a unique glass designed particularly for
cold water samples where conventional sensors perform
sluggishly due to low sample temperatures (below 10 °C down
to 0 °C [below 50 °F down to 32 °F]). This sensor is used
extensively on potable water treatment works where the sample
temperature is commonly below 10 °C (50 °F). A further benefit
of the low resistance glass is improved speed of response
where the sample has a low conductivity (less than 100 µS/cm
and down to 20 µS/cm).
ABB AP101 Series pH sensors ABB AP101
Water-wash systems – have proven extremely successful on
potable water treatment plants where iron or manganese coat
the glass electrode, increasing maintenance levels. The
frequency and duration of the clean is controlled via the AX400
Analyzer and during the clean cycle the current output and
alarms are frozen to prevent spurious alarms.
Redox (ORP) sensors – supplied in flow, dip and submersible
systems, with water-wash options available for flow and dip
systems. They are used widely in the treatment of waste water
and, in particular, for electro-plating for the treatment of cyanide
and chromate waste liquor.
ABB AP101 Series pH sensors ABB AP101
pH/Redox (ORP) cartridge sensors with water-wash option
Reference Electrode Refurbishment Kit
To allow the maximum working life of the sensor to be achieved,
a refurbishment kit is available (Part No. 7670/088).The kit
contains a replacement PTFE liquid junction, a bottle of 3.5M
KCl reference electrolyte solution and pipette, a liquid junction
removal/refitting tool and all necessary O-rings.
Many sensors are replaced because the liquid junction becomes
blocked due to the nature of the sample or because the
electrolyte solution is exhausted. Replacing the junction and
electrolyte extends sensor life and reduces the cost of
ownership.
ABB AP101 Series pH sensors ABB AP101
ABB AP100 Series pH cartridge sensors ABB AP100
ABB AP101 Series pH cartridge sensors ABB AP101
ABB AP102 Series pH cartridge sensors ABB AP102
ABB AP103 Series pH cartridge sensors ABB AP103
ABB AP104 Series pH cartridge sensors ABB AP104
Contact Information
Email address:Jackie@hkxytech.com jackie2018@126.com
Whatsapp:+86 15717178751
Skype:Jackie@hkxytech.com
Telegram:+86 15717178751
Phone:+86 15717178751