CATEGORIES
Latest news
Contact us
ADD: UNIT A1.9/F SILVERCORP INTERNATIONAL TOWER707-713 NATHAN ROAD MONGKOK KOWLOON HONGKONG;
TEL: 86-027-85508558,86-15871691193
FAX: 86 027-85309780
E-mail: sales1@hkxytech.com Jackie@hkxytech.com manager@field-instrument.com

  > ABB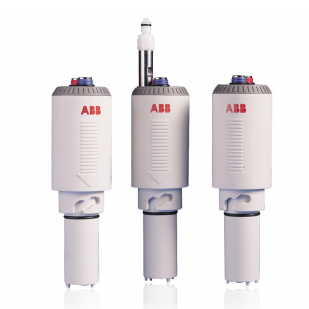 ABB AP103 Series pH sensors ABB AP103
Product Model:AP103
Country of origin:Germany
Delivery time:6-8 weeks
Weight:2Kg
Product Description: We have competitive price and sepecial discount on ABB.Pls feel free to send us inquiry to confirm that.
Product introduction
ABB AP103 Series pH sensors ABB AP103
Description
ABB AP103 Series pH sensors ABB AP103
Compact 'all-in-one' cartridge design
— simplifies sensor replacement, minimizing downtime
— ensures rapid and easy installation and commissioning
— ready-to-go straight from the box
Low resistance 'blue-glass' version
— unique solution for cold water applications
Flow, dip, insertion and submersible systems
— satisfies a wide range of applications
— for use on applications where only small volumes of sample
Stainless steel flow system option
ABB AP103 Series pH sensors ABB AP103
— for use on low conductivity samples
— minimizes maintenance where coating of the glass electrode
Replaceable liquid junction
— maximizes sensor life and enables replenishment of the
electrolyte
ABB AP103 Series pH sensors ABB AP103
The cartridge sensing system has a proven track record in a
wide range of applications. New features such as the low
resistance 'blue-glass' and the small-bore flow version for low
volume samples reinforces the performance and extends the
applications that can be fulfilled using this versatile and
Manufactured in glass-coupled polypropylene, the all-in-one
sensor can be supplied for flow-through, dip and submersible
Flow systems – can be supplied with a choice of process
connections and materials to meet the demands of the sample
to be measured. The bayonet snap-fit enables rapid and
convenient access for calibration – just twist and turn and the
sensor is released for easy and quick calibration.
Pipeline adaptor (7670/063) – is available to enable the sensor
to be inserted directly into a pipe.
ABB AP103 Series pH sensors ABB AP103
Dip systems – available in 1, 2 and 3 m (39, 78 and 117 in)
lengths for use in open channels and tanks.
Submersible systems – available with an integral sealed
connection cable enabling the sensor to be completely
submerged – ideal for boreholes or where there is a large rise
and fall in the sample to be measured. Provision is made for a
support chain to be attached to the system. A wide range of
standard cable lengths is available.
Water-wash options – available for flow and dip systems where
coating of the pH glass causes maintenance issues.
Water-wash has proven very successful in many applications.
Detachable cables – an option that makes replacing the
sensor a simple, easy-to-do operation. The use of IP67 plug and
socket connectors ensures that problems caused by moisture
ingress do not occur and enables reliable operation in the most
demanding applications.
ABB AP100 Series pH cartridge sensors ABB AP100
ABB AP101 Series pH cartridge sensors ABB AP101
ABB AP102 Series pH cartridge sensors ABB AP102
ABB AP103 Series pH cartridge sensors ABB AP103
ABB AP104 Series pH cartridge sensors ABB AP104
Contact Information
Email address:Jackie@hkxytech.com jackie2018@126.com
Whatsapp:+86 15717178751
Skype:Jackie@hkxytech.com
Telegram:+86 15717178751
Phone:+86 15717178751