CATEGORIES
Latest news
Contact us
ADD: UNIT A1.9/F SILVERCORP INTERNATIONAL TOWER707-713 NATHAN ROAD MONGKOK KOWLOON HONGKONG;
TEL: 86-027-85508558,86-15871691193
FAX: 86 027-85309780
E-mail: sales1@hkxytech.com Jackie@hkxytech.com manager@field-instrument.com

  > ABB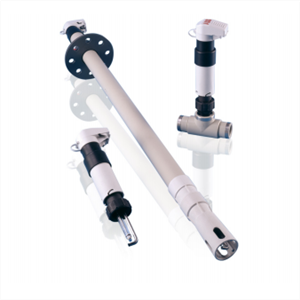 ABB AP201 pH redox sensor ABB pH redox sensor
Product Model:ABB AP201
Country of origin:Germany
Delivery time:6-8 weeks
Weight:2Kg
Product Description: We have good source to supply the ABB PH sensor with good price.If you have any inquiry,pls feel free to contact me.
Product introduction
ABB AP201 pH redox sensor ABB pH redox sensor
Rugged sensor system
with low cost of ownership The AP200 pH/Redox system is designed to provide highreliability and withstand the toughest environments for process monitoring and control.The rugged assembly is built to bear the rigours of weather
and process. Parts in contact with the process comprise chemically resistant PPS Ryton and stainless steel, or PPS Ryton
and Hastelloy C. Flow-through holders are available in polypropylene, while the PPS Ryton
insertion adapter enables installation in alternative material pipelines.
Insertion and Flow-through systems tolerate temperatures up to 130 °C (266 °F) and pressures up to 6 bar (90 psi). The inner electrode connections are ingress-protected to IP67/NEMA 6P (exceeds NEMA 4X). The heartbeat of the AP200 System is the AP120 combination electrode. With high process integrity it
delivers low running costs and low replacement outlay.
ABB AP201 pH redox sensor ABB pH redox sensor
through in-line cleaning
50% of pH sensors in chemical processes benefit from regular
cleaning. When done manually, this can be laborious and
costly – so is often ignored. The AP200 makes it possible to
automate sensor cleaning, driven by advanced Analyzers such
as ABB's AX400 or TB84PH.
ABB AP201 pH redox sensor ABB pH redox sensor
The AP200 system earth rod also serves as a jet-spray head
enabling the user to supply a periodic burst of cleaning agent
across the sensor. This is delivered through two nozzles, one
directed at the measuring element and the other at the
reference junction.
An aggressive, but little-and-often approach, keeps the
sensor in prime condition, even in gypsum-laden scrubber
applications.
Generally, water is a good solvent but, on other occasions, use
of an acid, alkali or even detergent is beneficial.
ABB AP201 pH redox sensor ABB pH redox sensor
One of the most vulnerable times for a pH electrode is during
reintroduction into the line. Analyzers with advanced
diagnostic facilities, such as ABB's TB8xPH or AX400 series,
can detect sensor breakages as they occur. In addition, they
can detect sensors 'out-of-process' and several reference
faults. These valuable facilities enable just-in-time
maintenance.
ABB AP201 pH redox sensor ABB pH redox sensor
The AP200 holder is equipped with an integral solution earth
facility. This provides high stability of measurement and
enables the transmitter to supply full sensor diagnostics
Contact Detail
Jackie Ma
HONGKONG XIEYUAN TECH CO., LIMITED
Add:7-A16,Caishen Commercial Plaza,Hangkou Railway Station,Wuhan, China
M:86-15717178751(WhatsApp & Telegram) | T:+86-27-85887732 | F:86-27-85309780
Email:Jackie@hkxytech.com Skype:Jackie@hkxytech.com