CATEGORIES
Latest news
Contact us
ADD: UNIT A1.9/F SILVERCORP INTERNATIONAL TOWER707-713 NATHAN ROAD MONGKOK KOWLOON HONGKONG;
TEL: 86-027-85508558,86-15871691193
FAX: 86 027-85309780
E-mail: sales1@hkxytech.com Jackie@hkxytech.com manager@field-instrument.com

  > Drivers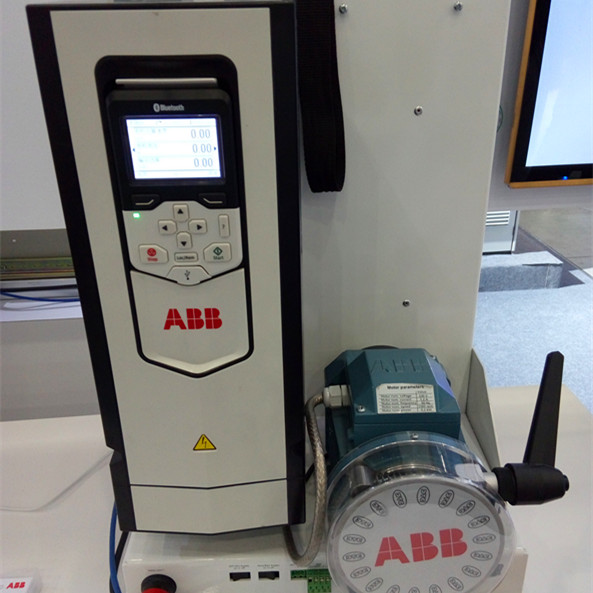 ABB ACS530 low voltage drives with high quality and origin
Product Model:ABB ACS530
Country of origin:Germany
Delivery time:6-8 weeks
Weight:5Kg
Product Description: We have good source to provide ABB Drives and coutry of Origin is Germany.If you have any other question,pls feel free to contact me
Product introduction
ABB ACS530 low voltage drives with high quality and origin
− Reduced commissioning and installation costs
− Many assistants including Start-up, Drive Optimizer,
Real-time Clock, Diagnostics, Maintenance, Serial
and PID.
− Two soft-keys that change according to the operator
panel state
− Field upgradeable firmware
− Easy connection of cables
− New conduit box is suitable for US and Europe
− Built-in brake chopper (10Hp, 230V / 15Hp, 480V and
600 V)
ABB ACS530 low voltage drives with high quality and origin
− Optional plug-in fieldbus modules
− Reduced size and weight with Patented Swinging
Choke (R1-R6) - equivalent to a 5% Line Impedance
− 3% Impedance AC Line Reactor (R8)
− Removable operator panel
− Only Class T fuses required for high speed short
circuit protection
ABB ACS530 low voltage drives with high quality and origin
− NEMA 12 enclosure does not require derating
− Smaller physical size of internal option slots
− FlashDrop programming (unpowered drive)
− Reduced energy costs without power factor penalties and
correction capacitors
− Patented swinging choke provides substantially
reduced harmonics, more inductance to the correct
load and higher power factor
− Up to 25% less THD v. traditional DC choke
− Daily timer controls for time-of-day backoff e.g. start/
stop process changes
− Reduced Drive-Motor system failures and costs
− Preventative "Maintenance Assistant" annunciation
feature schedules Drive-Motor system maintenance
ABB ACS530 low voltage drives with high quality and origin
The ABB ACS550 AC drive combines a sophisticated microprocessor with an advanced IGBT power switching technology
to deliver V/Hz, Closed Loop Flux Vector and Sensorless Vector control of AC motors. Its intuitive control panel offers numerous benefits making it the most user-friendly panel in the drives industry. The extensive library of pre-programmed application macros maximizes convenience and minimizes start-up time. This drive can handle the most demanding industrial applications in an efficient, dependable and economic manner.
ABB ACS530 low voltage drives with high quality and origin
Drive control
The drive Control Word (16 bit) provides a wide variety of functions from Start, Stop and Reset to Ramp Generator control. Typical setpoint values like Speed, Torque and Position can be transmitted to the drive with 15 bit accuracy.
Drive monitoring
A set of drive parameters and/or actual signals, like torque,speed, position, current etc., can be selected for cyclic data transfer providing fast data for operators and the manufacturing process.
Drive diagnostics
Accurate and reliable diagnostic information can be obtained via the drive Alarm, Limit and Fault Words reducing the down of the drive and therefore, also the down time of the manufacturing process.
Drive parameter handling
Total integration of the drives in the production process is achieved by single parameter read/write up to complete parameter set-up or download.
Easy to expand
Serial communication simplifies the latest trend of modular machine design enabling expansion of the installation at a later stage with low effort.
ABB ACS530 low voltage drives with high quality and origin
ACS530-01-02A6-4
ACS530-01-03A3-4
ACS530-01-04A0-4
ACS530-01-05A6-4
ACS530-01-07A2-4
ACS530-01-09A4-4
ACS530-01-12A6-4
ACS530-01-17A0-4
ACS530-01-25A0-4
ACS530-01-033A-4
ACS530-01-039A-4
ACS530-01-046A-4
ACS530-01-062A-4
ACS530-01-073A-4
ACS530-01-088A-4
ACS530-01-106A-4
ACS530-01-145A-4
ACS530-01-169A-4
ACS530-01-206A-4
ACS530-01-246A-4
ACS530-01-293A-4
ACS530-01-363A-4
ACS530-01-430A-4
We have good price on yokogawa DCS,yokogawa transmitter,yokogawa analyzer yokogawa flowmeter.ABB(Pressure transmitter,analyzer,Low voltage products),
Honeywell(pressure transmitter,analyzer,DCS,Gas detector),Rosemount(pressure transmitter,analyzer,flowmeter),MTL( safety barrier),P+F( safety barrier),Norgren(Values,Regulator)
Schneider,Weidmuller terminal blocks,Festo,Pnoenix contactor etc.
Also We have Emerson 475 field communicators in ready stock, such as 475FP1EKLUGMTS, 475HP1EKLUGMTS, 475HP1EKLUGMT, 475HP1ENA9GMTS
and some more, new and original from Emerson Germany.Any inquiry about our scope,pls feel free to contact me.