CATEGORIES
Latest news
Contact us
ADD: UNIT A1.9/F SILVERCORP INTERNATIONAL TOWER707-713 NATHAN ROAD MONGKOK KOWLOON HONGKONG;
TEL: 86-027-85508558,86-15871691193
FAX: 86 027-85309780
E-mail: sales1@hkxytech.com Jackie@hkxytech.com manager@field-instrument.com

  > Drivers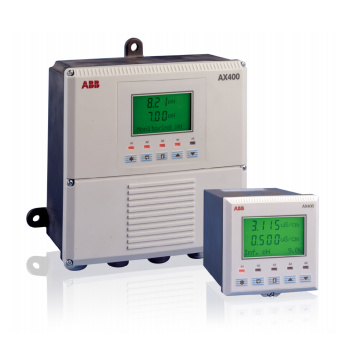 ABB AX411 Single and dual input analyzers
Product Model:ABB AX411
Country of origin:UK
Delivery time:6-8 weeks
Weight:4Kg
Product Description: We have competitive price and sepecial discount on ABB.Pls feel free to send us inquiry to confirm that.
Product introduction
ABB AX411 Single and dual input analyzers for low level conductivity
Description
Significantly Reduced Maintenance Costs
The AX400 Analyzers are supplied as standard for 85 to
265V AC operation. There are no inner switches to set.
They can also be provided for 24V AC or 12 to 30V DC supply
and recognize automatically which of the two supplies is being
used. 24V DC operation reduces maintenance costs
significantly by negating the need for costly, yearly safety tests to
ensure compliance with safety procedures.
Energy Saving Display
The backlit display has been designed to operate in all types of
environments and shows both the measured parameter(s) and,
on a separate 16-character display line, diagnostic and
computed information.
On dual-input analyzers both measured parameters are
displayed simultaneously.
For conservation of energy, the backlight can be set to switch off
automatically after 60s of inactivity.
ABB AX411 Single and dual input analyzers for low level conductivity
Single and Dual Input Analyzers
Both single and dual-input analyzers provide accurate
measurement of low-level conductivity and can be configured
for ranges in µS cm–1, µS m–1, mS cm–1 and mS m–1.
Alternatively, the instrument can be set up for resistivity in
MW-cm, total dissolved solids and salinity.
In addition, the dual-input analyzer calculates, displays and
Difference Cell 1 – Cell 2
Passage (Cell 1/Cell 2) x 100
Rejection (1 –[Cell 1/Cell 2]) x 100
These facilities are invaluable tools for demineralization and
reverse osmosis and a host of industrial processes.
ABB AX411 Single and dual input analyzers for low level conductivity
Cation Conductivity and Inferred pH
In low conductivity, ammoniated boiler waters, the AX411
analyzer can calculate an inferred pH measurement from the
conductivity and a preset ammonia concentration. With this
method, one AX411 provides cation conductivity, a direct output
of pH, reduced cost and none of the maintenance associated
Self-monitoring of the validity of the pH measurement is
achieved by checking that an after-cation conductivity value is
sufficiently low. This measurement is provided by the second
input of the AX411 analyzer. Alarm contacts can be configured
for cation conductivity, invalid pH and exhausted resin.
ABB AX411 Single and dual input analyzers for low level conductivity
AX41010101
AX41020101
AX41023101
ABB AX411 Single and dual input analyzers for low level conductivity
AX41050101
AX41053101
AX41060101
AX41063101
ABB AX411 Single and dual input analyzers for low level conductivity
Email address:Jackie@hkxytech.com jackie2018@126.com
Whatsapp:+86 15717178751
Skype:Jackie@hkxytech.com
Telegram:+86 15717178751
Phone:+86 15717178751