CATEGORIES
Latest news
Contact us
ADD: UNIT A1.9/F SILVERCORP INTERNATIONAL TOWER707-713 NATHAN ROAD MONGKOK KOWLOON HONGKONG;
TEL: 86-027-85508558,86-15871691193
FAX: 86 027-85309780
E-mail: sales1@hkxytech.com Jackie@hkxytech.com manager@field-instrument.com

  > Emerson 475 field communicator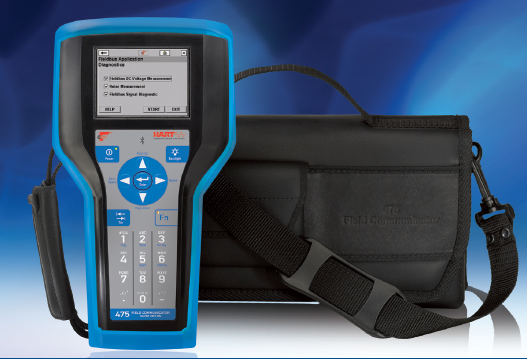 Emerson 475HP1ENA9GM9S 475 Field communicator Hart 475
Product Model:475HP1ENA9GM9S
Country of origin:Germany
Delivery time:Stock
Weight:2Kg
Product Description: We have large stock of Emerson 475 field communicator and we have good price and high quality.Welcome to send us the inquiry to compare the price
Product introduction
Emerson 475HP1ENA9GM9S 475 Field communicator origin in Germany Hart 475
Emerson 475HP1ENA9GM9S 475 Field communicator origin in Germany Hart 475
1.Full-color graphical user interface
2.""Powerful field diagnostics
""3.Bluetooth
communication
""4.Long-lasting Lithium-Ion power module
5.""Universal support for HART
and Foundation
Fieldbus devices
Emerson 475HP1ENA9GM9S 475 Field communicator origin in Germany Hart 475
Introduction
The 475 Field Communicator builds on the industry-leading technology of the 375 Field Communicator while adding innovative new capabilities including color display, Bluetooth communication, and advanced field diagnostics
with applications like ValveLink
Mobile.What you get is the most powerful handheld available universal, user upgradeable, intrinsically safe,
rugged and reliable. Only the 475 Field Communicator can deliver all this in a single handheld communicator.
Product Description
The 475 Field Communicator is designed to simplify your work
in the field. The intuitive full color user interface allows you
to leverage the same practices for both HART and Foundation
Fieldbus devices. It includes a larger touch screen than PDAs
or Pocket PCs, supports HART versions 5, 6, and 7 (including
WirelessHART
) devices, and allows you to upgrade your
475 Field Communicator onsite using the Internet.
Emerson 475HP1ENA9GM9S 475 Field communicator origin in Germany Hart 475
See and Feel the Difference
The touch screen display uses transflective technology, making it easy to read in both bright sunlight and normal lighting. To
make sure all conditions are covered, a multi-level backlight is included, allowing bright, crisp display even in plant areas with dim light.
Emerson 475HP1ENA9GMTAS 475 Field communicator origin in Germany
The touch screen display and large physical navigation buttons provide for efficient use both on the bench and in the field.
The icon-based user interface allows you to navigate quickly and efficiently.The full color graphics capability is provided as standard
with every 475 Field Communicator. It uses powerful EDDL technology to allow you to read data from field devices in a graphical manner. Charts, graphs, gauges, and product images are just a few of the ways in which important device data can be displayed using the 475 Field Communicator's
color LCD display.The weight of the 475 Field Communicator is evenly distributed for comfortable one-handed operation in the field. It runs on
Windows CE, a robust, real-time operating system. The 475 Field Communicator has plenty of memory to allow for future expansion. It has 32 MB of application memory and 1 GB of memory on its System Card.New HART and Foundation Fieldbus devices, as well as functional updates to existing devices, are introduced continually by device vendors. Keeping up-to-date with the required Device Descriptions (DDs) for all the devices in your
plant can be a real challenge.
Emerson 475HP1ENA9GM9S 475 Field communicator origin in Germany Hart 475
Emerson 475HP1ENA9GM9S 475 Field communicator origin in Germany Hart 475
Model Code for Ordering:

475HP1EKL9GM9
475HP1EKL9GM9A
475HP1EKL9GM9AS
475HP1EKL9GM9S
475HP1EKL9GMT
475HP1EKL9GMTA
475HP1EKL9GMTAS
475HP1EKL9GMTS
475HP1EKLUGM9
475HP1EKLUGM9A
475HP1EKLUGM9AS
475HP1EKLUGM9S
475HP1EKLUGMT
475HP1EKLUGMTA
475HP1EKLUGMTAS
475HP1EKLUGMTS
475HP1ENA9GM9
475HP1ENA9GM9A
475HP1ENA9GM9AS
475HP1ENA9GM9S
475HP1ENA9GMT
475HP1ENA9GMTA
475HP1ENA9GMTAS
475HP1ENA9GMTS
475HP1ENAUGM9
475HP1ENAUGM9A
475HP1ENAUGM9AS
475HP1ENAUGM9S
475HP1ENAUGMT
475HP1ENAUGMTA
475HP1ENAUGMTAS
475HP1ENAUGMTS
475HP9EKL9GM9
475HP9EKL9GM9A
475HP9EKL9GM9AS
475HP9EKL9GM9S
475HP9EKL9GMT
475HP9EKL9GMTA
475HP9EKL9GMTAS
475HP9EKL9GMTS
475HP9EKLUGM9
475HP9EKLUGM9A
475HP9EKLUGM9AS
475HP9EKLUGM9S
475HP9EKLUGMT
475HP9EKLUGMTA
475HP9EKLUGMTAS
475HP9EKLUGMTS
475HP9ENA9GM9
475HP9ENA9GM9A
475HP9ENA9GM9AS
475HP9ENA9GM9S
475HP9ENA9GMT
475HP9ENA9GMTA
475HP9ENA9GMTAS
475HP9ENA9GMTS
475HP9ENAUGM9
475HP9ENAUGM9A
475HP9ENAUGM9AS
475HP9ENAUGM9S
475HP9ENAUGMT
475HP9ENAUGMTA
475HP9ENAUGMTAS
475HP9ENAUGMTS
We have good price on yokogawa DCS,yokogawa transmitter,yokogawa analyzer yokogawa flowmeter.ABB(Pressure transmitter,analyzer,Low voltage products),
Honeywell(pressure transmitter,analyzer,DCS,Gas detector),Rosemount(pressure transmitter,analyzer,
flowmeter),MTL( safety barrier),P+F( safety barrier),Norgren(Values,
Regulator)
Schneider,Weidmuller terminal blocks,Festo,Pnoenix contactor etc.
Also We have Emerson 475 field communicators in ready stock, such as 475FP1EKLUGMTS, 475HP1EKLUGMTS, 475HP1EKLUGMT, 475HP1ENA9GMTS
and some more, new and original from Emerson Germany.Any inquiry about our scope,pls feel free to contact me.