CATEGORIES
Latest news
Contact us
ADD: UNIT A1.9/F SILVERCORP INTERNATIONAL TOWER707-713 NATHAN ROAD MONGKOK KOWLOON HONGKONG;
TEL: 86-027-85508558,86-15871691193
FAX: 86 027-85309780
E-mail: sales1@hkxytech.com Jackie@hkxytech.com manager@field-instrument.com

  > Emerson 475 field communicator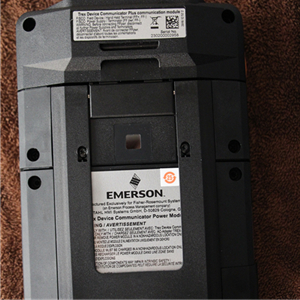 Emerson AMS Trex device communicator TREXLHPNAWP3
Product Model:TREXLHPNAWP3
Country of origin:Germany
Delivery time:Stock
Weight:2Kg
Product Description: We have large stock of Emerson Trex device communicator and we have good price and high quality.Welcome to send us the inquiry to compare the price
Product introduction
Emerson AMS Trex device communicator TREXLHPNAWP3
The AMS Trex Device Communicator User Guide is written for instrument technicians who work with field devices, including HART and FOUNDATION fieldbus devices.TREXLHPNAWP3 The user guide describes the hardware, connections to devices, the supported applications, and the
diagnostics you can run on devices, 4-20 mA current loops, or FOUNDATION fieldbus segments.
Emerson AMS Trex device communicator TREXLHPNAWP3
The Trex unit supports HART
and FOUNDATION
fieldbus devices,
TREXLHPNAWP3
so you can configure or troubleshoot in the field or on the work bench.
TREXLHPNAWP3
Electronic Device Description Language
(EDDL) technology enables the
TREXLHPNAWP3
Trex unit to communicate with a variety of devices
independent of device manufacturer.
Depending on the attached communication module, the Trex unit lets you:
Configure HART and FOUNDATION fieldbus devices.
Power one HART or FOUNDATION fieldbus device.
Measure current and voltage.
Perform diagnostics on a 4-20 mA current loop or FOUNDATION fieldbus segment.
The Trex unit includes a color LCD touchscreen, a Lithium-Ion power module (battery
pack), a processor, memory components, and optional communication modules.
Emerson AMS Trex device communicator TREXLHPNAWP3
Emerson AMS Trex device communicator TREXLHPNAWP3 other related model code as below
TREXCHPNAWS1 TREXLHPNAWP3 TREXCFPNAWS1 TREXLFPNAWS1
TREXCHPNAWS3 TREXLHPNAWS3 TREXCFPNAWS3 TREXLFPNAWS3
TREXCHPNAWP1 TREXLHPNAWP1 TREXCFPNAWP1 TREXLFPNAWP1
TREXCHPNAWP3 TREXLHPNAWP3 TREXCFPNAWP3 TREXLFPNAWP3
TREXCHPNA9S1 TREXLHPNA9S1 TREXCFPNA9S1 TREXLFPNA9S1
TREXCHPNA9S3 TREXLHPNA9S3 TREXCFPNA9S3 TREXLFPNA9S3
TREXCHPNA9P1 TREXLHPNA9P1 TREXCFPNA9P1 TREXLFPNA9P1
TREXCHPNA9P3 TREXLHPNA9P3 TREXCFPNA9P3 TREXLFPNA9P3
TREXCHPKLWS1 TREXLHPKLWS1 TREXCFPKLWS1 TREXLFPKLWS1
TREXCHPKLWS3 TREXLHPKLWS3 TREXCFPKLWS3 TREXLFPKLWS3
TREXCHPKLWP1 TREXLHPKLWP1 TREXCFPKLWP1 TREXLFPKLWP1
TREXCHPKLWP3 TREXLHPKLWP3 TREXCFPKLWP3 TREXLFPKLWP3
TREXCHPKL9S1 TREXLHPKL9S1 TREXCFPKL9S1 TREXLFPKL9S1
TREXLHPNAWP3 TREXLHPKL9S3 TREXCFPKL9S3 TREXLFPKL9S3
TREXCHPKL9P1 TREXLHPKL9P1 TREXCFPKL9P1 TREXLFPKL9P1
TREXCHPKL9P3 TREXLHPKL9P3 TREXCFPKL9P3 TREXLFPKL9P3
Emerson AMS Trex device communicator TREXLHPNAWP3
Spare Parts
TREX-0002-1211
TREX-0002-3611
TREX-0002-3611
TREX-0003-0022
TREX-0003-0002
TREX-FFPA-0001
TREX-0004-0001
TREX-0005-0002
TREX-0005-0011
TREX-0005-0009
TREX-0005-0004
TREX-0004-0002
TREX-PMDC-1211
TREX-PMDC-3611
TREX-PMDP-1211
TREX-PMDP-3611
TREX-0012-0011
TREX-0045-0001
TREX-0049-DVD1
TREX-APFF-0301
TREX-APFF-1201
TREX-APFF-3601
TREX-APFF-PE01
TREX-SUST-1201
TREX-SUPR-1201
Jackie Ma
HONGKONG XIEYUAN TECH CO., LIMITED
Add:7-A16,Caishen Commercial Plaza,Hangkou Railway Station,Wuhan, China
M:86-15717178751(WhatsApp & Telegram) | T:+86-27-85887732 | F:86-27-85309780
Email:Jackie@hkxytech.com Skype:Jackie@hkxytech.com
Web:www.hkxytech.com