CATEGORIES
Latest news
Contact us
ADD: UNIT A1.9/F SILVERCORP INTERNATIONAL TOWER707-713 NATHAN ROAD MONGKOK KOWLOON HONGKONG;
TEL: 86-027-85508558,86-15871691193
FAX: 86 027-85309780
E-mail: sales1@hkxytech.com Jackie@hkxytech.com manager@field-instrument.com

  > Gas Detector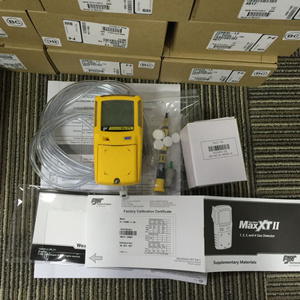 BW GASALERT AMMONIA 0-100 PPM GAS MONITOR GAXT-A-DL
Product Model:GAXT-A-DL
Country of origin:Mexico
Delivery time:6-8 weeks
Weight:2Kg
Product Description: We have very competitive price and special dicount on BW gas detector for you.Pls feel free to contact me to comapre the price.
Product introduction
BW GASALERT AMMONIA 0-100 PPM GAS MONITOR GAXT-A-DL
Overview
For safe, reliable single gas ammonia (NH3) detection use the BW Honeywell GasAlert Extreme with real-time readout. Instead of simply alerting you when you've encountered a dangerous level of the gas, the GasAlert Extreme gives you a live digital readout of present levels, making it far safer. Another great thing about this monitor is that it's long-lasting; instead of tossing your monitor after two years, just replace the batteries and sensors. This saves you in the long run in overall cost of ownership. Comes fully calibrated, with a charged battery, ready to use out of the box.
BW GASALERT AMMONIA 0-100 PPM GAS MONITOR GAXT-A-DL
The device has an NH3 measuring range of 0-100 ppm. When the GasAlert Extreme NH3 encounters harmful levels at 25 ppm and again at 50 ppm, it goes into a vibrating, flashing light, and 95 dB alarm.
GasAlert Extremes are famously durable. The housing is not only concussion-proof, but it's IP 66/67 rated for dust and water protection. You want a monitor that can not only provide you accurate readings, but one that can do so in harsh weather and industrial work sites.
BW GASALERT AMMONIA 0-100 PPM GAS MONITOR GAXT-A-DL
BW makes the GasAlert Extreme monitors compatible with the MicroDock II, making automatic testing and calibrations easier than ever. Use the hands-free Hard Hat Clip carrying accessory GA-HC-1 with any of the BW single gas monitors.
Measuring range of 0-100 parts per million
Low alarm of 25 ppm and high alarm level of 50 ppm
Longer lasting than competitors, reduces ownership cost
Provides a live digital readout of gas levels, not simply alerting
Two-year replaceable sensors and batteries
Compatible with MircroDock II for easy bump tests
BW GASALERT AMMONIA 0-100 PPM GAS MONITOR GAXT-A-DL
BWC2-H BWC2-H510 BWC2-H515 BWC2-M
BWC2-M50200 BWC2-X BWC2-S BWC2-S24
BWC2-H-B50 BWC3-H BWC3-M BWC2R-M
MCXL-XWHM-Y-NA BWC4-Y-N MCX3-XWHM-Y-NA XWHM-R-Y-NA
M5-XW0Y-R M5PID-XWQY XT-XWHM-Y-NA BWC2-M50200
BWC2R-X BWC2R-H GAXT-X-DL-2 GAXT-P-DL
GAXT-A-DL GAXT-A2-DL GAXT-C-DL GAXT-D-DL
GAXT-H-DL BWC2R-M25100 BWC2R-S M5IR-XWBY-R
GAXT-S-DL BWC3R-M BWC3R-H BWC2R-S24
BWC2-S24 BWC4-B-N MCXL-XWHM-Y-NA XT-XWHM-Y-NA
GAXT-H-2-DL GAXT-N-DL GAXT-G-DL GAXT-M2-DL
Email address:Jackie@hkxytech.com jackie2018@126.com
Whatsapp:+86 15717178751
Skype:Jackie@hkxytech.com
Telegram:+86 15717178751
Phone:+86 15717178751