CATEGORIES
Latest news
Contact us
ADD: UNIT A1.9/F SILVERCORP INTERNATIONAL TOWER707-713 NATHAN ROAD MONGKOK KOWLOON HONGKONG;
TEL: 86-027-85508558,86-15871691193
FAX: 86 027-85309780
E-mail: sales1@hkxytech.com Jackie@hkxytech.com manager@field-instrument.com

  > Gas Detector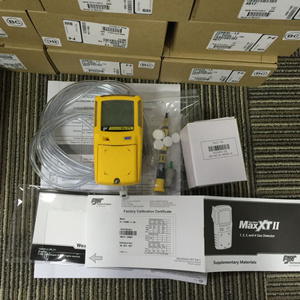 BW GASALERT EXTREME O2 SINGLE GAS MONITOR GAXT-X-DL-2
Product Model:GAXT-X-DL-2
Country of origin:Mexico
Delivery time:6-8 weeks
Weight:2Kg
Product Description: We have very competitive price and special dicount on BW gas detector for you.Pls feel free to contact me to comapre the price.
Product introduction
BW GASALERT EXTREME O2 SINGLE GAS MONITOR GAXT-X-DL-2



Overview
BW Honeywell GasAlert
GAXT-X-DL-2
Extreme is a single gas oxygen monitor providing a constant digital readout of the present level of oxygen (O2) on a large LCD screen. With a range of 0-30 percent Vol.percent, a low alarm level of 19.5%, and a high alarm of 22.5 percent the GasAlert Extreme provides protection for workers and meets OSHA safety standards.
GAXT-X-DL-2
The BW Extreme comes with a charged battery, fully calibrated, and ready to use out of the box.
BW GASALERT EXTREME O2 SINGLE GAS MONITOR GAXT-X-DL-2
The GasAlert Extreme
GAXT-X-DL-2
housing is very robust with an IP 66/67 rating for dust and water, and is concussion-proof to protect against drops and rough treatment. Both sensors and batteries can be easily replaced, so the life of the unit is virtually unlimited.
Exceptional battery
GAXT-X-DL-2
and sensor runtime combined with durable technology and
GAXT-X-DL-2
mechanical components make the GasAlert Extreme O2 monitor one of the best single-gas monitors for industrial workplaces.
GAXT-X-DL-2
BW GASALERT EXTREME O2 SINGLE GAS MONITOR GAXT-X-DL-2
Measuring range of 0-30 percent
Low alarm of 19.5 percent, high alarm of 22.5 percent
Live digital readout of O2 levels
IP 66/67 rated housing
GAXT-X-DL-2
Tamper-proof passcode protection
Multi-language and simple to operate
GAXT-X-DL-2
Two-year replaceable battery and sensors
MicroDock II compatible
GAXT-X-DL-2
Compatible with hands-free Hard Hat Clip carrying accessory
BW GASALERT EXTREME O2 SINGLE GAS MONITOR GAXT-X-DL-2
BWC2-H BWC2-H510 BWC2-H515 BWC2-M
BWC2-M50200 BWC2-X BWC2-S BWC2-S24
BWC2-H-B50 BWC3-H BWC3-M BWC2R-M
MCXL-XWHM-Y-NA BWC4-Y-N MCX3-XWHM-Y-NA XWHM-R-Y-NA
M5-XW0Y-R M5PID-XWQY XT-XWHM-Y-NA BWC2-M50200
BWC2R-X BWC2R-H GAXT-X-DL-2 GAXT-P-DL
GAXT-A-DL GAXT-A2-DL GAXT-C-DL GAXT-D-DL
GAXT-H-DL BWC2R-M25100 BWC2R-S M5IR-XWBY-R
GAXT-S-DL BWC3R-M BWC3R-H BWC2R-S24
BWC2-S24 BWC4-B-N MCXL-XWHM-Y-NA XT-XWHM-Y-NA
GAXT-H-2-DL GAXT-N-DL GAXT-G-DL GAXT-M2-DL
Email address:Jackie@hkxytech.com jackie2018@126.com
Whatsapp:+86 15717178751
Skype:Jackie@hkxytech.com
Telegram:+86 15717178751
Phone:+86 15717178751