CATEGORIES
Latest news
Contact us
ADD: UNIT A1.9/F SILVERCORP INTERNATIONAL TOWER707-713 NATHAN ROAD MONGKOK KOWLOON HONGKONG;
TEL: 86-027-85508558,86-15871691193
FAX: 86 027-85309780
E-mail: sales1@hkxytech.com Jackie@hkxytech.com manager@field-instrument.com

  > Honeywell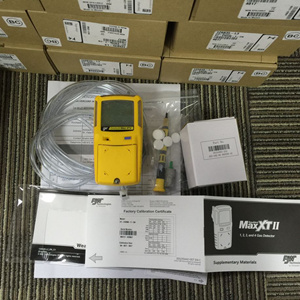 BW XT-XWHM-Y-NA BW HONEYWELL GASALERT
Product Model:XT-XWHM-Y-NA
Country of origin:Mexico
Delivery time:Stock
Weight:2Kg
Product Description: We have very competitive price and special dicount on BW gas detector for you.Pls feel free to contact me to comapre the price.
Product introduction
BW XT-XWHM-Y-NA BW HONEYWELL GASALERT
Overview
The GasAlert Max XT II Monitor is a multi-gas monitor with an internal pump that detects and monitors toxic gas levels. It's perfect for confined space workers, oil rig workers, sewer technicians, engineers, firefighters, military personnel or anyone else who works in hazardous spaces.
Sporting four gas sensors for detecting hydrogen sulfide (H2S), carbon monoxide (CO), oxygen (O2) and the LEL of a variety of dangerously combustible/flammable gases, the GasAlert Max XT II portable detector also features an internal pump for remote sampling. It comes calibrated with a fully-charged battery, and is ready to use right out of the box.
BW XT-XWHM-Y-NA BW HONEYWELL GASALERT
The GasAlert Max XT II is a handheld gas detector which displays levels of all four gases on its bright, backlit LCD screen (which also shows you battery levels and pump activity). It allows you to clearly monitor your environment no matter how dark and dingy your confined space may be.
A selection of alerts and alarms keep the worker aware of any dangerous levels as the gas analyzer constantly monitors the environment. Bright alarm LED lights, vibration options, and a 95dB alarm ensure you get the message. The GasAlert Max XT II also has an optional confidence beep, which tells you the device is operating and fully functional. Alerts for the GasAlert Max XT II are available for Short Term Exposure Limits (STEL) (5-15 minutes), Long Term Exposure Limits (LTW; ~8 hours) as well as high/low levels for each gas.
BW XT-XWHM-Y-NA BW HONEYWELL GASALERT
Designed to be solid and durable, the GasAlert Max multi-gas detection unit has concussion-proof housing, as well as an IP66/67 rating for water-resistance, meaning your unit should continue working well throughout its lifetime. The internal sample draw pump is easy to maintain, with both moisture and particle filters protecting it, which are easy to monitor (via a filter window) and change.
Many folks operating gas monitors work with protective gloves on. BW Honeywell's entire range of detectors feature simple one button operation: one single large button designed to be operated with a gloved hand, making it particularly easy to train your staff to use this portable gas detector.
The GasAlert Max XT II is compatible with the MicroDock II for recording your readings throughout a shift, for charging the kit, and for altering settings for alarms and tolerance levels should your company require it (via the IR Data Link Kit found in the Deluxe Confined Accessory Kit).
BW XT-XWHM-Y-NA BW HONEYWELL GASALERT
Each GasAlert Max XT II unit comes individually packaged in a cardboard box that includes the 120V AC battery charger, operator's manual, CD-rom owner's manual, 5 spare moisture filters and 5 particulate filters, metallic scintered particulate filter (for end of sampling hose) and 2 lengths of (3 ft. length and a 10 ft. length) clear PVC tubing with connectors, double-ended screwdriver and factory calibration certificate.
Note: Calibration gas may be ordered separately. Due to HazMat regulations, calibration gas takes between 5-7 days to ship, and will not arrive at the same time as the monitor.
BW XT-XWHM-Y-NA BW HONEYWELL GASALERT
The GasAlert Max XT II Includes:
Manual (in hard copy and DVD)
Five replacement particulate (thick) filters for the pump
Five replacement hydrophobic (thin) filters for the pump
One replacement filter for the end of the hose
One 3 ft. piece of clear hose with unit connector
One 10 ft. piece of clear hose with unit connector
BW XT-XWHM-Y-NA BW HONEYWELL GASALERT
XT-XWHM-B-NA
XT-XWH0-Y-NA
XT-XWH0-B-NA
XT-XW0M-Y-NA
XT-XW0M-B-NA
XT-X0HM-Y-NA
XT-X0HM-B-NA
XT-XW00-Y-NA
XT-XW00-B-NA
XT-00HM-Y-NA
XT-00HM-B-NA
XT-X0H0-Y-NA
XT-X0H0-B-NA
XT-X00M-Y-NA
XT-X00M-B-NA
XT-X000-Y-NA
XT-X000-B-NA
XT-00H0-Y-NA
XT-00H0-B-NA
XT-000M-Y-NA
XT-000M-B-NA
Email address:Jackie@hkxytech.com jackie2018@126.com
Whatsapp:+86 15717178751
Skype:Jackie@hkxytech.com
Telegram:+86 15717178751
Phone:+86 15717178751