CATEGORIES
Latest news
Contact us
ADD: UNIT A1.9/F SILVERCORP INTERNATIONAL TOWER707-713 NATHAN ROAD MONGKOK KOWLOON HONGKONG;
TEL: 86-027-85508558,86-15871691193
FAX: 86 027-85309780
E-mail: sales1@hkxytech.com Jackie@hkxytech.com manager@field-instrument.com

  > MOXA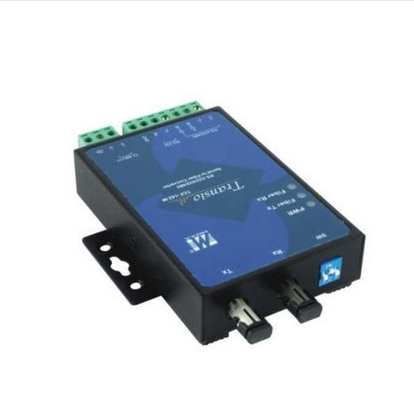 MOXA TCF-142-M-SC RS-232/422/485 media converters
Product Model:TCF-142-M-SC
Country of origin:taiwan
Delivery time:Stock
Weight:2Kg
Product Description: We have good relationship with MOXA.We have already cooperated with them for nearly 5 year.If you have any interest on it,pls feel free to contact me.
Product introduction
MOXA TCF-142-M-SC RS-232/422/485 media converters
Ring Operation
The TCF-142 converters can be used to connect serial devices to a
fiber ring. To form the ring, connect the Tx port of one TCF-142 to the
Rx port of a neighboring converter. Once the ring is set up, simply use
the DIP switches to configure the TCF-142 converters for "ring mode."
When one node transmits a signal, the signal travels around the ring
until it returns back to the transmitting unit, which then blocks the
signal. With the TCF-142, you can set up fiber rings that have a total
circumference of up to 100 km.
MOXA TCF-142-M-SC RS-232/422/485 media converters

ADDC
is a patented hardware data flow solution developed by Moxa to handle RS 485 data direction control. ADDC
senses and controls RS-485 data direction automatically, making it unnecessary to use the handshaking signal.
MOXA TCF-142-M-SC RS-232/422/485 media converters
RS-232/422/485 Side
Connector: Terminal Block
RS-232 Signals: Tx, Rx, GND
RS-422 Signals: TxD+, TxD-, RxD+, RxD-, GND
RS-485-4w Signals: TxD+, TxD-, RxD+, RxD-, GND
RS-485-2w Signals: Data+, Data-, GND
Baudrate: 50 bps to 921.6 kbps
MOXA TCF-142-M-SC RS-232/422/485 media converters
The other related model code
TCF-142-M-SC: RS-232/422/485 to multi-mode optical-fiber media converter with fiber ring support and SC
connector, 0 to 60°C operating temperature
TCF-142-M-ST: RS-232/422/485 to multi-mode optical-fiber media converter with fiber ring support and ST
connector, 0 to 60°C operating temperature
TCF-142-S-SC: RS-232/422/485 to single-mode optical-fiber media converter with fiber ring support and SC
connector, 0 to 60°C operating temperature
TCF-142-S-ST: RS-232/422/485 to single-mode optical-fiber media converter with fiber ring support and ST
connector, 0 to 60°C operating temperature
TCF-142-M-SC-T: RS-232/422/485 to multi-mode optical-fiber media converter with fiber ring support and SC connector, -40 to 75°C operating
TCF-142-M-ST-T: RS-232/422/485 to multi-mode optical-fiber media converter with fiber ring support and ST connector, -40 to 75°C operating
TCF-142-S-SC-T: RS-232/422/485 to single-mode optical-fiber media converter with fiber ring support and SC connector, -40 to 75°C operating
TCF-142-S-ST-T: RS-232/422/485 to single-mode optical-fiber media converter with fiber ring support and ST connector, -40 to 75°C operating
Jackie Ma
HONGKONG XIEYUAN TECH CO., LIMITED
Add:7-A16,Caishen Commercial Plaza,Hangkou Railway Station,Wuhan, China
M:86-15717178751(WhatsApp & Telegram) | T:+86-27-85887732 | F:86-27-85309780
Email:Jackie@hkxytech.com Skype:Jackie@hkxyte.com