CATEGORIES
Latest news
Contact us
ADD: UNIT A1.9/F SILVERCORP INTERNATIONAL TOWER707-713 NATHAN ROAD MONGKOK KOWLOON HONGKONG;
TEL: 86-027-85508558,86-15871691193
FAX: 86 027-85309780
E-mail: sales1@hkxytech.com Jackie@hkxytech.com manager@field-instrument.com

  > MTL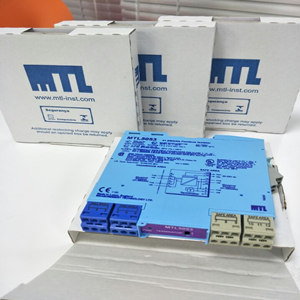 MTL3011 SWITCH PROXIMITY DETECTOR RELAYS
Product Model:MTL3011
Country of origin:UK
Delivery time:STOCK
Weight:10g
Product Description: We have competitive price and sepecial discount on MTL.Pls feel free to send us inquiry to confirm that.
Product introduction
MTL3011 SWITCH PROXIMITY DETECTOR RELAYS
Description


MTL3011 SWITCH PROXIMITY DETECTOR RELAYS
These basically similar units both enable a safe-area load to be controlled by a proximity detector or switch located in a hazardous area, the MTL3011 having a relay output for general use, and the
MTL3012 a floating solid-state on/off switch compatible with logic
circuits. In both units a built-in phase-reverse control allows an alarm
condition (output open) to be signalled for either state of the sensor. A
line-fault detection feature opens the output in the event of short or
open-circuit lines: intended for use primarily with proximity detectors,
it can also be used with switches made to resemble them electrically
by adding two resistors, or disabled by a link if not required.
MTL3011 SWITCH PROXIMITY DETECTOR RELAYS
SPECIFICATION
See also 'Common specification'
Number of channels
One, fully floating
Location of switch
Zone 0, IIC, T6 hazardous area
Div 1, Group A, hazardous location
Location of proximity detector
Zone 0, IIC, T4–6 if suitably certified
Div 1, Group A, hazardous location
Voltage applied to sensor
7.7 to 9.0V dc from 1kΩ
Input/output characteristics
Output closed if >2.1mA* (<2kΩ) in sensor circuit
Output open if <1.2mA* (>10kΩ) in sensor circuit
Hysteresis: 200µA (650Ω) nominal
*NAMUR and DIN 19234 standards for proximity detectors
Phase reverse facility
MTL3011 SWITCH PROXIMITY DETECTOR RELAYS
Operation reversed by switch on top of unit
Power supply failure protection
Output circuit opens if supply fails
Broken
orted lines protection
By built-in line-fault detection feature (LFD)
Output open if input current <100µA (broken line)
Output open if input current >6.5mA (shorted lines)
Note: to prevent false triggering of LFD, switch-type
sensors must be fitted with resistors as shown or LFD be
disabled by linking terminals 7 and 8
Output characteristics, MTL3011
Response time: 1ms typical
Contact rating: 200V, 0.5A, 10VA (ac); 200V, 0.5A, 10W (dc)
(USA: 60V) individual maxima, resistive loads
Contact life expectancy: 0.75 x 106 operations at max. load
Note: reactive loads must be adequately suppressed to protect the light-duty
contacts in this unit
Output characteristics, MTL3012
Operating frequency: typically dc to 2kHz
Maximum off-state voltage: 35V
Maximum off-state leakage current: 10µA
Maximum on-state voltage drop: 1+ (0.13 x current in mA) V
Maximum on-state current: 50mA
Note: the solid-state output is Zener-diode protected
against inductive loads
LED indicator
ON when output circuit is closed
Power requirement
25mA typical at 24V
35mA maximum at 20 to 35V
Power dissipation within unit
0.6W typical at 24V
1.3W maximum at 35V
MTL3011 SWITCH PROXIMITY DETECTOR RELAYS
MTL7056AC
MTL7787+

Email address:Jackie@hkxytech.com jackie2018@126.com
Whatsapp:+86 15717178751
Skype:Jackie@hkxytech.com