CATEGORIES
Latest news
Contact us
ADD: UNIT A1.9/F SILVERCORP INTERNATIONAL TOWER707-713 NATHAN ROAD MONGKOK KOWLOON HONGKONG;
TEL: 86-027-85508558,86-15871691193
FAX: 86 027-85309780
E-mail: sales1@hkxytech.com Jackie@hkxytech.com manager@field-instrument.com

  > MTL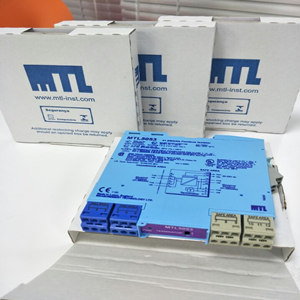 MTL4544S REPEATER POWER SUPPLY
Product Model:MTL4544S
Country of origin:UK
Delivery time:STCOK
Weight:50g
Product Description: We have competitive price and sepecial discount on MTL.Pls feel free to send us inquiry to confirm that.
Product introduction
MTL5544S REPEATER POWER SUPPLY
Description
MTL5544S REPEATER POWER SUPPLY
MTL5544S
The
MTL5544S
provides fully-floating dc supplies for energising two conventional 2-wire or 3-wire 4/20mA or HART transmitters located in a hazardous area, and repeats the current in other circuits to drive two safe-area loads.
MTL5544S
For smart transmitters, the unit allows bi-directional transmission of digital communication signals superimposed on the
MTL5544S
4/20mA loop current. Alternatively, the
MTL5544S
acts as a current sink for a safe-area connection rather than driving a current into the load. Separately powered current sources, such as 4-wire transmitters,can be connected but will not support HART communication.
See also common specification
MTL5544S REPEATER POWER SUPPLY
MTL5544S
Zone 0, IIC, T4–6 hazardous area if suitably certified
Div. 1, Group A hazardous location
Under/over-range: 0 to 24mA
Safe-area load resistance (MTLx 544)
Safe-area load (MTLx544S)
Maximum voltage source: 24V dc
Safe-area circuit output resistance: > 1MΩ
Signal range: 0 to 24mA (including over-range)
Transmitter voltage: 16.5V at 20mA
Transfer accuracy at 20°C
Settles to within 10% of final value within 50µs
HART (terminals 1 & 2 and 4 & 5 only
MTL5544S REPEATER POWER SUPPLY
MTL5544S
Maximum current consumption (with 20mA signals)
Power dissipation within unit (with 20mA signals)
Safety description (each channel)
Terminals 2 to 1 and 3, and 5 to 4 and 6:
Uo=28V Io=93mA Po=651mW Um = 253V rms or dc
Terminals 1 to 3 and 4 to 6:
Simple apparatus ≤1.5V, ≤0.1A and ≤25mW; can be connected
without further certification into any IS loop with an open-circuit
voltage <28V
MTL5544S REPEATER POWER SUPPLY
MTL5544S
MTL7056AC
MTL7787+

Email address:Jackie@hkxytech.com jackie2018@126.com
Whatsapp:+86 15717178751
Skype:Jackie@hkxytech.com