CATEGORIES
Latest news
Contact us
ADD: UNIT A1.9/F SILVERCORP INTERNATIONAL TOWER707-713 NATHAN ROAD MONGKOK KOWLOON HONGKONG;
TEL: 86-027-85508558,86-15871691193
FAX: 86 027-85309780
E-mail: sales1@hkxytech.com Jackie@hkxytech.com manager@field-instrument.com

  > PR electronics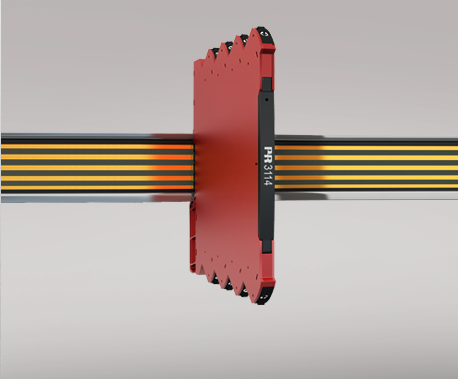 PR electronics 3114 Isolated universal converter
Product Model:PR 3114
Country of origin:Denmark
Delivery time:2 weeks
Weight:2Kg
Product Description: The PR transmitter is 100% brand new and origin in Denmark. We also have the competitive price and short delivery time. Welcome to compare the price.
Product introduction
PR electronics 3114 Isolated universal converter
Description
PR electronics
3114 Isolated universal converter
1.Input for RTD, TC, Ohm, potentiometer, mA and V
2.Slimline housing of 6 mm
4.Output for current and voltage
5.Can be supplied separately or installed on power rail, PR 9400
Application
PR
electronics
3114 Isolated universal converter
1.Linearized, electronic temperature measurement with RTD or TC sensor.
2.Conversion of linear resistance variation to a standard analog current / voltage signal, i.e. from solenoids 3.and butterfly valves or linear movements with attached potentiometer.
4.Power supply and signal isolator for 2-wire transmitters.
5.Process control with standard analog output.
6.Galvanic separation of analog signals and measurement of floating signals.
7.The device can be mounted in Safe area or in Zone 2 and Cl. 1 Div 2. area.
Advanced features
PR
electronics
3114 Isolated universal converter
1.When 3114 is used in combination with the 4501 display / programming front and ConfigMate 4590, all operational parameters can be modified to suit any application.
Technical characteristics
2.A green / red front LED indicates normal operation and malfunction.
3-port 2.5 kVAC galvanic isolation.
Technical details
PR
electronics
3114 Isolated universal converter
Operating temperature

-25°C to +70°C
Storage temperature

-40°C to +85°C
Calibration temperature

20...28°C
Relative humidity < 95% RH (non-cond.)
Installation in

Pollution degree 2 & measurement / overvoltage cat. II
Mechanical specifications
Dimensions (HxWxD)

113 x 6.1 x 115 mm
DIN rail type

DIN EN 60715/35 mm
Wire size

0.13 x 2.5 mm2 / AWG 26...12 stranded wire
Screw terminal torque

0.5 Nm
25...100 Hz

±4 g
Common specifications
PR
electronics
3114 Isolated universal converter
Input specifications


PR

electronics

3114 Isolated universal converter
Selected Model
PR
electronics
3114 Isolated universal converter
PR electronics
3109 Isolated converter / splitter
PR
electronics
3114 Isolated universal converter
PR
electronics
4104 Universal uni-/bipolar signal transmitter
PR
electronics
4116 Universal transmitter
PR
electronics
4501 Display / programming front
PR
electronics
4511 Communication enabler
PR
electronics
3104 Isolated converter
PR
electronics
5714 Programmable LED indicator
PR
electronics
9116B Universal converter
PR
electronics
9410 Power control unit
PR
electronics
7501 Field mounted HART temperature transmitter
PR
electronics
5131A
2-wire programmable transmitter temperature transmitter
PR
electronics
5331A
2-wire programmable transmitter temperature transmitter
PR
electronics
5331D
2-wire programmable transmitter temperature transmitter
PR
electronics
5335D 2-wire programmable transmitter temperature transmitter
PR
electronics
5333A 2-wire programmable transmitter temperature transmitter
PR
electronics
5333D 2-wire programmable transmitter temperature transmitter
PR
electronics
5335A 2-wire programmable transmitter temperature transmitter
PR
electronics
5334A
2-wire programmable transmitter temperature transmitter
PR
electronics
5334B
2-wire programmable transmitter temperature transmitter
PR
electronics
5335A 2-wire transmitter with HART protocol
temperature transmitter
PR
electronics
5337A
2-wire
transmitter with HART protocol
temperature transmitter
PR
electronics
5337D
2-wire
transmitter with HART protocol
temperature transmitter
PR
electronics
5350A PROFIBUS PA / FOUNDATION Fieldbus transmitter
PR
electronics
5350B PROFIBUS PA / FOUNDATION Fieldbus transmitter
PR
electronics
6331A
2-wire programmable transmitter temperature transmitter
PR
electronics
6331B
2-wire programmable transmitter temperature transmitter
PR
electronics
6333A
2-wire programmable transmitter temperature transmitter
PR
electronics
6333B
2-wire programmable transmitter temperature transmitter
PR
electronics
6334A
2-wire programmable transmitter temperature transmitter
PR
electronics
6334B
2-wire programmable transmitter temperature transmitter
PR
electronics
6335A 2-wire HART transmitter
temperature transmitter
PR
electronics
6335D 2-wire HART transmitter
temperature transmitter
PR
electronics
6337A 2-wire HART transmitter
temperature transmitter
PR
electronics
6337D 2-wire HART transmitter
temperature transmitter
PR
electronics
6350A PROFIBUS PA / FOUNDATION Fieldbus transmitter
PR
electronics
6350B PROFIBUS PA / FOUNDATION Fieldbus transmitter
PR
electronics
5131AB
2-wire programmable transmitter temperature transmitter
PR
electronics
5331A3B
2-wire programmable transmitter temperature transmitter
PR
electronics
5334A3B 2-wire programmable transmitter temperature transmitter
PR
electronics
5334B3B 2-wire programmable transmitter temperature transmitter
PR
electronics
5331D3B 2-wire programmable transmitter temperature transmitter
PR
electronics
6335D2A
2-wire HART transmitter
temperature transmitter
PR
electronics
6331B2A
2-wire programmable transmitter temperature transmitter
PR
electronics
6335D2B
2-wire HART transmitter
temperature transmitter
PR
electronics
6331B2B
2-wire programmable transmitter temperature transmitter
PR
electronics
6337D2A
2-wire HART transmitter
temperature transmitter
PR
electronics
6334A2B
2-wire programmable transmitter temperature transmitter
PR
electronics
6350B2B
PROFIBUS PA / FOUNDATION Fieldbus transmitter
PR
electronics
6334A2A
2-wire programmable transmitter temperature transmitter
PR
electronics
6337D2B
2-wire HART transmitter
temperature transmitter
PR
electronics
6334B2A
2-wire programmable transmitter temperature transmitter
PR
electronics
6333B1B
2-wire programmable transmitter temperature transmitter
PR
electronics
6334B2B
2-wire programmable transmitter temperature transmitter
PR
electronics
6333B1A
2-wire programmable transmitter temperature transmitter
PR
electronics
6350A2A
PROFIBUS PA / FOUNDATION Fieldbus transmitter
PR
electronics
6337A2B
2-wire HART transmitter
temperature transmitter
PR
electronics
6337A2A
2-wire HART transmitter
temperature transmitter
PR
electronics
5114AA
2-wire programmable transmitter temperature transmitter
PR
electronics
6331A2B
2-wire programmable transmitter temperature transmitter

Dear Sir/Madam
Please Kindly noted:Our working time is 9:00 am-5:30 pm.If you have any question,pls feel free to contact us in Whatsapp,skype or email.We will reply you soon.
Email address:Jackie@hkxytech.com sale1@hkxytech.com.
Whatsapp:+86 15717178751 +86 15871691193
Skype:Jackie@hkxytech.com