CATEGORIES
Latest news
Contact us
ADD: UNIT A1.9/F SILVERCORP INTERNATIONAL TOWER707-713 NATHAN ROAD MONGKOK KOWLOON HONGKONG;
TEL: 86-027-85508558,86-15871691193
FAX: 86 027-85309780
E-mail: sales1@hkxytech.com Jackie@hkxytech.com manager@field-instrument.com

  > PR electronics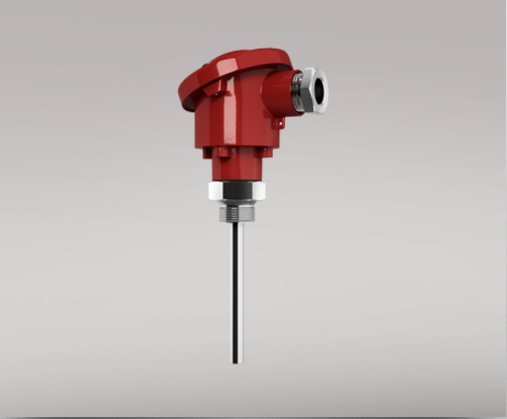 PR electronics 7400 Pt100 temperature sensor
Product Model:PR electronics 7400
Country of origin:Denamrk
Delivery time:2 weeks
Weight:2Kg
Product Description: The PR transmitter is 100% brand new and origin in Denmark. We also have the competitive price and short delivery time. Welcome to compare the price.
Product introduction
PR electronics 7400 Pt100 temperature sensor
Description
PR electronics 7400 Pt100 temperature sensor
Accuracy, IEC 60751 class A
Terminal head DIN 43729 form B
Stainless, acid-proof steel
Temperature range -50°C to +400°C
Application
PR electronics 7400 Pt100 temperature sensor
Temperature measurement in industrial systems, eg. in the food, chemical and pharmaceutical industries, cold storage plants, district heating, power plants, refineries and ships.
Temperature measurement in gas and floating media.
Technical characteristics
PR electronics 7400 Pt100 temperature sensor
The 7400 comes with a fixed measurement insert.
The sensor element is a thin film platinum resistor - Pt100 - trimmed at a laboratory to comply with the resistance values of the standard IEC 60751, class A. The advantage of a thin film element is an ultra short reaction time. The Pt100 element is electrically isolated from the protecting tube and terminal head.
The protecting tube is Ø 9 x 1 mm stainless, acid-proof steel W no. 1.4571 / AISI 316TI, filled with aluminum oxide powder. A 1/2" RG thread nipple is welded on the protecting tube with a packing sheet of Ø 30 and span 30.
The terminal head is a standard DIN 43729 form B housing produced in light-alloy metal, protected against corrosion through strong industrial lacquering.
The sensor is available with or without cooling extension to keep the terminal head clear of isolated surfaces.
Electrical connection
PR electronics 7400 Pt100 temperature sensor
Each sensor is delivered with a three-wire connection which allows cable compensation to the sensor element.
Pt100 sensor type 7400 is available with a built-in ceramic socket (item no. 7423) or with a built-in 2-wire programmable transmitter for both standard and I.S. installations.
Environmental Conditions
PR electronics 7400 Pt100 temperature sensor
Mechanical specifications
PR electronics 7400 Pt100 temperature sensor 7400
Max. tightening torque

50 Nm
Packing surface

Ø 30 x Ø 21.5
Max. pressure for insertion length ≤ 250 mm

36.5 bar
Max. pressure for insertion length > 250 mm

22.5 bar
Cable connection (screwed)

M20 x 1.5
Common specifications
PR electronics 7400 Pt100 temperature sensor 7400
Recommended sensor current

≤ 2 mA
Max. temperature diffusion at 0°C: IEC 60751 class A

≤ ±0.15°C
Long-term stability: (≥1000 hours at max. temperature)

≤ ±0.05°C
Typical reaction time: water with flow 0.2 m/s

t0.5 after 20 s / t0.9 after 28 s
Typical reaction time: air with flow 1 m/s

t0.5 after 60 s / t0.9 after 180 s
Selected Model
PR electronics 7400 Pt100 temperature sensor 7400
PR electronics 3109 Isolated converter / splitter
PR electronics 3113 HART 7 temperature converter isolated
PR electronics 3114 Isolated universal converter
PR electronics 3331 Temperature converter loop-powered isolated
PR electronics 3333 Pt100 converter loop-powered
PR electronics 3337 HART 7 temperature converter loop-powered
PR electronics 4104 Universal uni-/bipolar signal transmitter
PR electronics 4116 Universal transmitter
PR electronics 4501 Display / programming front
PR electronics 4511 Communication enabler
PR electronics 3104 Isolated converter
PR electronics 5714 Programmable LED indicator
PR electronics 9116B Universal converter
PR electronics 9410 Power control unit
PR electronics 7501 Field mounted HART temperature transmitter
PR electronics 5131A 2-wire programmable transmitter temperature transmitter
PR electronics 5331A 2-wire programmable transmitter temperature transmitter
PR electronics 5331D 2-wire programmable transmitter temperature transmitter
PR electronics 5335D 2-wire programmable transmitter temperature transmitter
PR electronics 5333A 2-wire programmable transmitter temperature transmitter
PR electronics 5333D 2-wire programmable transmitter temperature transmitter
PR electronics 5335A 2-wire programmable transmitter temperature transmitter
PR electronics 5334A 2-wire programmable transmitter temperature transmitter
PR electronics 5334B 2-wire programmable transmitter temperature transmitter
PR electronics 5335A 2-wire transmitter with HART protocol temperature transmitter
PR electronics 5337A 2-wire transmitter with HART protocol temperature transmitter
PR electronics 5337D 2-wire transmitter with HART protocol temperature transmitter
PR electronics 5350A PROFIBUS PA/FOUNDATION Fieldbus transmitter
PR electronics 5350B PROFIBUS PA/FOUNDATION Fieldbus transmitter
PR electronics 6331A 2-wire programmable transmitter temperature transmitter
PR electronics 6331B 2-wire programmable transmitter temperature transmitter
PR electronics 6333A 2-wire programmable transmitter temperature transmitter
PR electronics 6333B 2-wire programmable transmitter temperature transmitter
PR electronics 6334A 2-wire programmable transmitter temperature transmitter
PR electronics 6334B 2-wire programmable transmitter temperature transmitter
PR electronics 6335A 2-wire HART transmitter temperature transmitter
PR electronics 6335D 2-wire HART transmitter temperature transmitter
PR electronics 6337A 2-wire HART transmitter temperature transmitter
PR electronics 6337D 2-wire HART transmitter temperature transmitter
PR electronics 6350A PROFIBUS PA / FOUNDATION Fieldbus transmitter
PR electronics 6350B PROFIBUS PA / FOUNDATION Fieldbus transmitter
PR electronics 5131AB 2-wire programmable transmitter temperature transmitter
PR electronics 5331A3B 2-wire programmable transmitter temperature transmitter
PR electronics 5334A3B 2-wire programmable transmitter temperature transmitter
PR electronics 5334B3B 2-wire programmable transmitter temperature transmitter
PR electronics 5331D3B 2-wire programmable transmitter temperature transmitter
PR electronics 6335D2A 2-wire HART transmitter temperature transmitter
PR electronics 6331B2A 2-wire programmable transmitter temperature transmitter
PR electronics 6335D2B 2-wire HART transmitter temperature transmitter
PR electronics 6331B2B 2-wire programmable transmitter temperature transmitter
PR electronics 6337D2A 2-wire HART transmitter temperature transmitter
PR electronics 6334A2B 2-wire programmable transmitter temperature transmitter
PR electronics 6350B2B PROFIBUS PA / FOUNDATION Fieldbus transmitter
PR electronics 6334A2A 2-wire programmable transmitter temperature transmitter
PR electronics 6337D2B 2-wire HART transmitter temperature transmitter
PR electronics 6334B2A 2-wire programmable transmitter temperature transmitter
PR electronics 6333B1B 2-wire programmable transmitter temperature transmitter
PR electronics 6334B2B 2-wire programmable transmitter temperature transmitter
PR electronics 6333B1A 2-wire programmable transmitter temperature transmitter
PR electronics 6350A2A PROFIBUS PA / FOUNDATION Fieldbus transmitter
PR electronics 6337A2B 2-wire HART transmitter temperature transmitter
PR electronics 6337A2A 2-wire HART transmitter temperature transmitter
PR electronics 5114AA 2-wire programmable transmitter temperature transmitter
PR electronics 6331A2B 2-wire programmable transmitter temperature transmitter
PR electronics 9106B HART transparent repeater
PR electronics 9107B HART transparent driver
PR electronics 9113B Temperature / mA converter
PR electronics 9116B Universal converter
PR electronics 9202B Pulse isolator
PR electronics 9203B Solenoid / alarm driver
PR electronics 7908 System 9000 backplane
PR electronics 7916 System 9000 backplane
PR electronics 5104B Ex repeater / power supply
PR electronics 5105B Ex-isolated driver
PR electronics 5106B HART transparent repeater
PR electronics 5107B HART transparent driver
PR electronics 5114B Programmable transmitter
PR electronics 5115B Ex signal calculator
PR electronics 5116B Programmable transmitter
PR electronics 5203B Ex solenoid / alarm driver
PR electronics 5202B Pulse isolator
PR electronics 5131B 2-wire programmable transmitter
PR electronics 5420B Ex power supply
PR electronics 5223B Programmable f/I-f/f converter