CATEGORIES
Latest news
Contact us
ADD: UNIT A1.9/F SILVERCORP INTERNATIONAL TOWER707-713 NATHAN ROAD MONGKOK KOWLOON HONGKONG;
TEL: 86-027-85508558,86-15871691193
FAX: 86 027-85309780
E-mail: sales1@hkxytech.com Jackie@hkxytech.com manager@field-instrument.com

  > Pepperl+Fuchs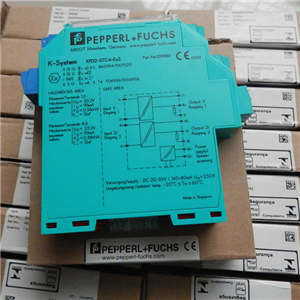 Pepperl fuchs KCD2-SR-EX1.LB Switch Amplifier
Product Model:KCD2-SR-EX1.LB
Country of origin:Sinapore
Delivery time:Stock
Weight:0.5kG
Product Description: We have good source to supply Pepperl fuchs isolated barrier.If you have any inquiry replate to our scope,pls feel free to contact me
Product introduction
Pepperl fuchs KCD2-SR-EX1.LB Switch Amplifier
Features
• 1-channel isolated barrier
• 24 V DC supply (Power Rail)
• Dry contact or NAMUR inputs
• Usable as signal splitter (1 input and 2 outputs)
• Relay contact output
• Fault relay contact output
• Line fault detection (LFD)
• Housing width 12.5 mm
• Up to SIL 2 acc. to IEC 61508
Pepperl fuchs KCD2-SR-EX1.LB Switch Amplifier
Function
This isolated barrier is used for intrinsic safety applications. KCD2-SR-EX1.LB It transfers digital signals (NAMUR sensors/mechanical contacts) from a hazardous area to a safe area.The proximity sensor or switch controls a form A normally open relay contact for the safe area load. KCD2-SR-EX1.LB The normal output state can be reversed using switch S1. Switch S2 allows output II to be switched between a signal output and an error
message output. Switch S3 enables or disables line fault detection of the field circuit.
Pepperl fuchs KCD2-SR-EX1.LB Switch Amplifier
During an error condition, relays revert to their de-energized state and LEDs indicate the fault according to NAMUR NE44.A unique KCD2-SR-EX1.LB collective error messaging feature is available when used with the Power Rail system.
Due to its compact housing design and low heat dissipation,this device is useful for detecting positions, KCD2-SR-EX1.LB end stops, and switching states in space-critical applications.
Pepperl fuchs KCD2-SR-EX1.LB Switch Amplifier
Pepperl fuchs KCD2-SR-EX1.LB Switch Amplifier
Large quantity of Pepperl+Fuchs Isolated Barriers K-Systems on stock
KCD2-SCD-1
KCD2-SCD-EX1
KCD2-SR-EX1.LB
KCD2-SR-EX2
KCD2-STC-1
KCD2-STC-EX1
KCD2-STC-EX1.2O
KCD2-UT2-EX1
KFA6-SR2-Ex1.W
KFD0-SD2-Ex1.1045
KFD2-CD2-EX1
KFD2-CRG2-EX1.D
KFD2-DWB-1.D
KFD2-EB2
KFD2-GU-1
KFD2-GUT-Ex1.D
KFD2-SCD2-EX2.LK
KFD2-SH-EX1.T.OP
KFD2-SOT2-Ex2
KFD2-SR2-Ex1.W.LB
KFD2-SR2-Ex2.W
KFD2-ST2-Ex2
KFD2-STC4-1
KFD2-STC4-EX2
KFD2-STC4-Ex2
KFD2-UT2-1
KFD2-UT2-2
KFD2-UT2-EX1
KFD2-UT2-Ex2
KFD2-VR4-EX1.26
KFU8-FSSP-1.D
Contact Detail
Jackie Ma
HONGKONG XIEYUAN TECH CO., LIMITED
Add:7-A16,Caishen Commercial Plaza,Hangkou Railway Station,Wuhan, China
M:86-15717178751(WhatsApp & Telegram) | T:+86-27-85887732 | F:86-27-85309780
Email:Jackie@hkxytech.com Skype:Jackie@hkxytech.com