CATEGORIES
Latest news
Contact us
ADD: UNIT A1.9/F SILVERCORP INTERNATIONAL TOWER707-713 NATHAN ROAD MONGKOK KOWLOON HONGKONG;
TEL: 86-027-85508558,86-15871691193
FAX: 86 027-85309780
E-mail: sales1@hkxytech.com Jackie@hkxytech.com manager@field-instrument.com

  > Pepperl+Fuchs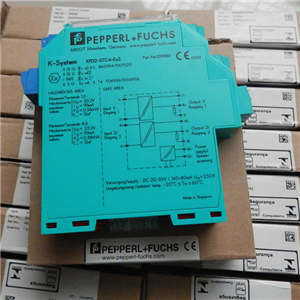 Pepperl fuchs KCD2-STC-1 SMART Transmitter Power Supply
Product Model:KCD2-STC-1
Country of origin:Sinapore
Delivery time:Stock
Weight:0.5kG
Product Description: We have good source to supply Pepperl fuchs isolated barrier.If you have any inquiry replate to our scope,pls feel free to contact me
Product introduction
Pepperl fuchs KCD2-STC-1 SMART Transmitter Power Supply
Features
• 1-channel signal conditioner
• 24 V DC supply (Power Rail)
• Input for 2-wire SMART transmitters and current sources
• Output for 4 mA ... 20 mA or 1 V ... 5 V
• Sink or source mode
• Housing width 12.5 mm
• Up to SIL 2 acc. to IEC 61508
Pepperl fuchs KCD2-STC-1 SMART Transmitter Power Supply
Function
This signal conditioner provides the isolation for nonintrinsically safe applications.The device supplies 2-wire SMART transmitters, and can also be used with 2-wire SMART current sources.It transfers the analog input signal as an isolated current value.Digital signals may be superimposed on the input signal and are transferred bi-directionally.Selectable output of current source, sink mode, or voltage output is available via DIP switches.
Pepperl fuchs KCD2-STC-1 SMART Transmitter Power Supply
If the HART communication resistance in the loop is too low,the internal resistance of 250 Ω between terminals 6 and 8 can be used.
Test sockets for the connection of HART communicators are integrated into the terminals of the device.
Pepperl fuchs KCD2-STC-1 SMART Transmitter Power Supply
General specifications
Signal type Analog input
Functional safety related parameters
Safety Integrity Level (SIL) SIL 2
Supply
Connection Power Rail or terminals 9+, 10-
Rated voltage Ur 19 ... 30 V DC
Ripple ≤ 10 %
Rated current Ir ≤ 45 mA
Power dissipation ≤ 800 mW
Power consumption ≤ 1.1 W
Input
Connection side field side
Connection terminals 1+, 2-; 3+, 4-
Pepperl fuchs KCD2-STC-1 SMART Transmitter Power Supply

Large quantity of Pepperl+Fuchs Isolated Barriers K-Systems on stock
KCD2-SCD-1
KCD2-SCD-EX1
KCD2-SR-EX1.LB
KCD2-SR-EX2
KCD2-STC-1
KCD2-STC-EX1
KCD2-STC-EX1.2O
KCD2-UT2-EX1
KFA6-SR2-Ex1.W
KFD0-SD2-Ex1.1045
KFD2-CD2-EX1
KFD2-CRG2-EX1.D
KFD2-DWB-1.D
KFD2-EB2
KFD2-GU-1
KFD2-GUT-Ex1.D
KFD2-SCD2-EX2.LK
KFD2-SH-EX1.T.OP
KFD2-SOT2-Ex2
KFD2-SR2-Ex1.W.LB
KFD2-SR2-Ex2.W
KFD2-ST2-Ex2
KFD2-STC4-1
KFD2-STC4-EX2
KFD2-STC4-Ex2
KFD2-UT2-1
KFD2-UT2-2
KFD2-UT2-EX1
KFD2-UT2-Ex2
KFD2-VR4-EX1.26
KFU8-FSSP-1.D
Contact Detail
Jackie Ma
HONGKONG XIEYUAN TECH CO., LIMITED
Add:7-A16,Caishen Commercial Plaza,Hangkou Railway Station,Wuhan, China
M:86-15717178751(WhatsApp & Telegram) | T:+86-27-85887732 | F:86-27-85309780
Email:Jackie@hkxytech.com Skype:Jackie@hkxytech.com