CATEGORIES
Latest news
Contact us
ADD: UNIT A1.9/F SILVERCORP INTERNATIONAL TOWER707-713 NATHAN ROAD MONGKOK KOWLOON HONGKONG;
TEL: 86-027-85508558,86-15871691193
FAX: 86 027-85309780
E-mail: sales1@hkxytech.com Jackie@hkxytech.com manager@field-instrument.com

  > Pepperl+Fuchs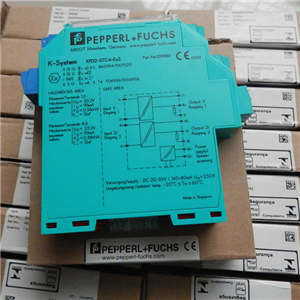 Pepperl fuchs KFD2-SOT2-Ex2 2-channel isolated barrier
Product Model:KFD2-SOT2-Ex2
Country of origin:Sinapore
Delivery time:Stock
Weight:0.5kG
Product Description: We have good source to supply Pepperl fuchs isolated barrier.If you have any inquiry replate to our scope,pls feel free to contact me
Product introduction
Pepperl fuchs KFD2-SOT2-Ex2 Switch Amplifier 2-channel isolated barrier
Pepperl fuchs KFD2-SOT2-Ex2 Switch Amplifier 2-channel isolated barrier
Features
1.2-channel isolated barrier
2.24 V DC supply (Power Rail)
3.Dry contact or NAMUR inputs
4.Passive transistor output, non-polarized
5.Line fault detection (LFD)
6.Reversible mode of operation
7.Up to SIL 2 acc. to IEC 61508
Pepperl fuchs KFD2-SOT2-Ex2 Switch Amplifier 2-channel isolated barrier
Function
This isolated barrier is used for intrinsic safety applications. It transfers digital signals (NAMUR sensors/mechanical contacts) from a hazardous area to a safe area. Each proximity sensor or switch controls a passive transistor output for the safe area load.
Pepperl fuchs KFD2-SOT2-Ex2 Switch Amplifier 2-channel isolated barrier
The normal output state can be reversed using switch S1 for channel I and switch S2 for channel II. Switch S3 enables or disables line fault detection of the field circuit. During an error condition, the transistors revert to their deenergized state and LEDs indicate the fault according to NAMUR NE44. A unique collective error messaging feature is available when used with the Power Rail system.
Pepperl fuchs KFD2-SOT2-Ex2 Switch Amplifier 2-channel isolated barrier
Large quantity of Pepperl+Fuchs Isolated Barriers K-Systems on stock
KCD2-SCD-1
KCD2-SCD-EX1
KCD2-SR-EX1.LB
KCD2-SR-EX2
KCD2-STC-1
KCD2-STC-EX1
KCD2-STC-EX1.2O
KCD2-UT2-EX1
KFA6-SR2-Ex1.W
KFD0-SD2-Ex1.1045
KFD2-CD2-EX1
KFD2-CRG2-EX1.D
KFD2-DWB-1.D
KFD2-EB2
KFD2-GU-1
KFD2-GUT-Ex1.D
KFD2-SCD2-EX2.LK
KFD2-SH-EX1.T.OP
KFD2-SOT2-Ex2
KFD2-SR2-Ex1.W.LB
KFD2-SR2-Ex2.W
KFD2-ST2-Ex2
KFD2-STC4-1
KFD2-STC4-EX2
KFD2-STC4-Ex2
KFD2-UT2-1
KFD2-UT2-2
KFD2-UT2-EX1
KFD2-UT2-Ex2
KFD2-VR4-EX1.26
KFU8-FSSP-1.D
​
Contact Detail
Jackie Ma
HONGKONG XIEYUAN TECH CO., LIMITED
Add:7-A16,Caishen Commercial Plaza,Hangkou Railway Station,Wuhan, China
M:86-15717178751(WhatsApp & Telegram) | T:+86-27-85887732 | F:86-27-85309780
Email:Jackie@hkxytech.com Skype:Jackie@hkxytech.com