CATEGORIES
Latest news
Contact us
ADD: UNIT A1.9/F SILVERCORP INTERNATIONAL TOWER707-713 NATHAN ROAD MONGKOK KOWLOON HONGKONG;
TEL: 86-027-85508558,86-15871691193
FAX: 86 027-85309780
E-mail: sales1@hkxytech.com Jackie@hkxytech.com manager@field-instrument.com

  > Pepperl+Fuchs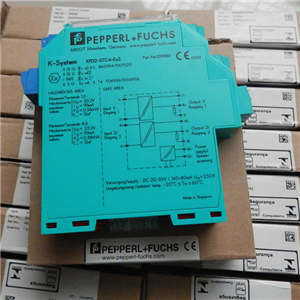 Pepperl fuchs KFU8-FSSP-1.D Frequency converter
Product Model:KFU8-FSSP-1.D
Country of origin:Sinapore
Delivery time:Stock
Weight:0.5kG
Product Description: We have good source to supply Pepperl fuchs isolated barrier.If you have any inquiry replate to our scope,pls feel free to contact me
Product introduction
Pepperl fuchs KFU8-FSSP-1.D Frequency converter
Features
Pepperl fuchs KFU8-FSSP-1.D Frequency converter
1.Limit frequency 40 kHz
2.Voltage or current ouptput
3.Incrementing output
(Spacing factor 1 ... 9999)
4.Multi-range power pack
5.2-, 3-, 4-wire and NAMUR sensors as
well as rotary encoder connectable
6.Auxiliary power output for sensors
7.Connection via Power Rail
8.Period measurement
9.Display: Input in Hz or 1/min, output in
V or mA
10.adjustable updating of indication
Pepperl fuchs KFU8-FSSP-1.D Frequency converter
Function
The KFU8-FSSP-1.D frequency-voltage/current converter is a device for displaying and monitoring periodic signals, which occur in almost all areas of the automation and processing industry, i.e. frequencies in general and rotational speeds in particular. Input pulses are evaluated according to the cycle method, i.e. by measurement of the periodicity, and are converted into a frequency or rotational speed by a µ controller. Depending on the measurement range value selected, the µ controller calculates a voltage or current value proportionate to the input frequency and exports this value via a digital-analog converter.
Pepperl fuchs KFU8-FSSP-1.D Frequency converter
The following analogue signals are available for selection: 0 V ... 10 V, 2 V... 10 V, 0 mA ... 20 mA, 4 mA ... 20 mA. The serially switched output provides the input frequency which can be subdivided by the adjustable factor (1 ... 9999). Special consideration was given to the frequently occurring special case of rotational speed measurement during the development of the device. This makes it possible for the display and inputs to be either Hz or in min-1. In addition, in applications with signal encoders that return multiple pulses per revolution, it is possible to operate automatically at the actual speed of the drive by assigning the number (1 ... 1200).
Pepperl fuchs KFU8-FSSP-1.D Frequency converter
The frequency/voltage/current converter is supplied with 115 V AC, 230 V AC or 24 V DC. When it is connected with alternating voltage it provides an unstabilised 24-VDC source of power for the signal encoder. All commonly available two- three- or four-wire proximity switches and incremental encoders on the input galvanically separated by an optical coupler are accepted as a signal source. In addition, two terminals are reserved for connecting proximity switches or incremental encoders in accordance with DIN 19234 (NAMUR). The input signal frequency in Hz or the speed in min-1 - or the output signal voltage in V or current in mA - appears in a 4-place 7-segment LED display on the front of the device. Parameters can be set with 4 buttons underneath the display
Large quantity of Pepperl+Fuchs Isolated Barriers K-Systems on stock
KCD2-SCD-1
KCD2-SCD-EX1
KCD2-SR-EX1.LB
KCD2-SR-EX2
KCD2-STC-1
KCD2-STC-EX1
KCD2-STC-EX1.2O
KCD2-UT2-EX1
KFA6-SR2-Ex1.W
KFD0-SD2-Ex1.1045
KFD2-CD2-EX1
KFD2-CRG2-EX1.D
KFD2-DWB-1.D
KFD2-EB2
KFD2-GU-1
KFD2-GUT-Ex1.D
KFD2-SCD2-EX2.LK
KFD2-SH-EX1.T.OP
KFD2-SOT2-Ex2
KFD2-SR2-Ex1.W.LB
KFD2-SR2-Ex2.W
KFD2-ST2-Ex2
KFD2-STC4-1
KFD2-STC4-EX2
KFD2-STC4-Ex2
KFD2-UT2-1
KFD2-UT2-2
KFD2-UT2-EX1
KFD2-UT2-Ex2
KFD2-VR4-EX1.26
KFU8-FSSP-1.D
Contact Detail
Jackie Ma
HONGKONG XIEYUAN TECH CO., LIMITED
Add:7-A16,Caishen Commercial Plaza,Hangkou Railway Station,Wuhan, China
M:86-15717178751(WhatsApp & Telegram) | T:+86-27-85887732 | F:86-27-85309780
Email:Jackie@hkxytech.com Skype:Jackie@hkxytech.com