CATEGORIES
Latest news
Contact us
ADD: UNIT A1.9/F SILVERCORP INTERNATIONAL TOWER707-713 NATHAN ROAD MONGKOK KOWLOON HONGKONG;
TEL: 86-027-85508558,86-15871691193
FAX: 86 027-85309780
E-mail: sales1@hkxytech.com Jackie@hkxytech.com manager@field-instrument.com

  > Pepperl+Fuchs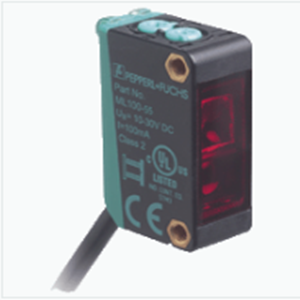 Pepperl fuchs Retroreflective sensor ML100-55/103/115
Product Model:ML100-55/103/115
Country of origin:Sinapore
Delivery time:Stock
Weight:0.5kG
Product Description: We have good source to supply Pepperl fuchs isolated barrier.If you have any inquiry replate to our scope,pls feel free to contact me
Product introduction
Pepperl fuchs Retroreflective sensor ML100-55/103/115
Model Number
ML100-55/103/115
Retroreflective sensor
with 2 m fixed cable
Features
Miniature design
Pepperl fuchs Retroreflective sensor ML100-55/103/115
Easy to use
Clearly visible LEDs for Power ON,
switching state and weak signal indication
Full metal thread mounting
Very bright, highly visible light spot
Not sensitive to ambient light
Pepperl fuchs Retroreflective sensor ML100-55/103/115
Product information
The ML100 series is characterized by its miniature
housing with integral, all-metal threaded
bushings. All versions are equipped with a
visible red transmitter LED. This greatly simplifies
installation and commissioning. The
switching states are easily visible from all
directions thanks to the highly visible LEDs.
Pepperl fuchs Retroreflective sensor ML100-55/103/115
Pepperl fuchs Retroreflective sensor ML100-55/103/115
Other Normal Stock
ML100-55/103/115
ML100-8-1000-RT/102/115
ML100-8-1000-RT/103/115
ML100-8-H-350-RT/102/115
ML100-8-H-350-RT/103/115
ML7-54-G/25/136/115b
ML7-8-H-140-RT/59/65a/115/136
MSFG-24/42-50/60
NBB0,8-5GM25-E2
NBB1,5-8GM50-E0
NBB10-30GM40-Z0
NBB10-30GM50-E2
NBB15-30GM50-WO
NBB15-30GM50-WS
NBB15-U1-A2
NBB15-U1-A2-T
NBB15-U1-E2
NBB15-U1-Z2
NBB2-12GM50-E0-V1
NBB2-12GM50-E2
NBB2-6,5M30-E0
NBB2-8GM30-E2-5M
NBB20-L2-A2-V1-3G-3D
NBB20-L2-E0-V1
NBB20-L2-E2-V1
NBB20-U1-A2
NBB20-U1-E0
NBB20-U1-E2
NBB3-V3-Z4
NBB4-12GM50-E0
NBB4-12GM50-E0-V1
NBB4-12GM50-E2-V1
NBB5-18GM50-E2-V1
NBB5-18GM60-A2-V1
NBB8-18GM50-E2-V1
NBB8-18GM60-A2-V1
NBN12-18GM50-E2-V1
NBN12-18GM50-E2-V1-Y261468
NBN15-30GM50-E0
NBN15-30GM50-E2-V1
NBN15-30GM60-A2
NBN25-30GM50-E2
NBN3-F31-E8-V1
NBN30-L2-E2-V1
NBN30-U1-A2
NBN30-U1-E2
NBN4-12GM50-E2
NBN4-12GM50-E2-V1
NBN40-L2-E2-V1
NBN40-U1-A2
NBN40-U1-A2-T
NBN40-U1-Z2
NBN40-U1K-N0
NBN5-F7-E0
NBN5-F7-E2
NBN8-12GM50-E0-V1
NBN8-12GM50-E2-V1
NBN8-18GM50-E0
NBN8-18GM50-E2-V1
NBN8-18GM60-WS
NCB10-30GM40-NO
NCB15-30GM50-Z5
NCB50-FP-A2-P1
NCB8-18GM40-N0
NCN15-30GM40-Z1
NJ15+U1+DW1-10
NJ2-12GK-SN
NJ2-V3-N
NJ4-12GK-N
NJ40-FP-SN-P1
NJ5-18GM-N
NJ5-18GM50-A2-V1
NJ8-18GM-N
NRB10-30GM50-E2-C-V1
NRB15-30GM50-E2-C-V1
O1D100
O1D101
O1D102
O1D105
OBE10M-18GM60-SE5-V1
OBS4000-18GM60-E4
OBS4000-18GM60-E5
OBT200-18GM60-E4
OBT500-18GM60-E4
OBT500-18GM60-E5
OBT500-18GM60-E5-V1
OFR-100/100
OMH-RLK29-HW
PMI80-F90-IU-V1
PSM58N-F1AAGR0BN-1213
PVM58N-011AZR0BN-1213
REF-H85-2
RHI90N-0IAK1R61N-02048
RHI90N-0NAK1R61N-01024
RL31-54/73c/136
RL39-8-800/32/40A/82A/116
RLK31-54/31/115
RVI50N-09BK0A3TN-01000
RVI58N-032AAR61N-01000
RVI78N-10CK2A31N-01000
SI5000
SI5002
SI5006
SJ3,5-N
TVI58N-01NK0R6TN-00100
U-P6-B6
UB2000-F42-E6-V15
UB300-18GM40-E5-V1
UB500-18GM75-U-V15
UB500-F42-I-V15
UB6000-30GM-E5-V15
UC2000-30GM-IUR2-V15
UC2000-L2-E5-V15
UC4000-30GM-IUR2-V15
UC4000-L2-E6-V15
UC4000-L2-U-V15
UC500-30GM-IUR2-V15
UC500-D1-3K-V7
UPR-03
V1-G-2M-PUR
V1-G-5M-PVC
V1-G-A2-2M-PUR
V1-G-BK
V15-G-2M-PUR
V15-G-2M-PVC
V3-WM-3M-PUR-V3-GM
VDM28-50-R-IO/73c/110/122
VDM28-8-L-IO/73c/136
WCS3B-LS221
WKC4T-2/TEL
Z787.H
Contact Detail
Jackie Ma
HONGKONG XIEYUAN TECH CO., LIMITED
Add:7-A16,Caishen Commercial Plaza,Hangkou Railway Station,Wuhan, China
M:86-15717178751(WhatsApp & Telegram) | T:+86-27-85887732 | F:86-27-85309780
Email:Jackie@hkxytech.com Skype:Jackie@hkxytech.com
Pepperl fuchs Retroreflective sensor ML100-55/103/115