CATEGORIES
Latest news
Contact us
ADD: UNIT A1.9/F SILVERCORP INTERNATIONAL TOWER707-713 NATHAN ROAD MONGKOK KOWLOON HONGKONG;
TEL: 86-027-85508558,86-15871691193
FAX: 86 027-85309780
E-mail: sales1@hkxytech.com Jackie@hkxytech.com manager@field-instrument.com

  > Analyzer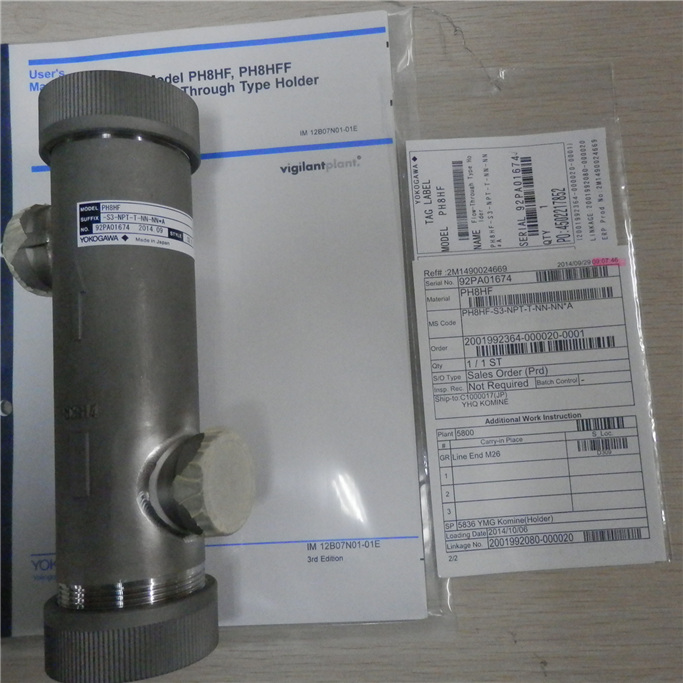 Yokogawa PH8HF, PH8HFF Flow-Through Type Holder
Product Model:PH8HF,PH8HFF
Country of origin:Japan
Delivery time:6-8 weeks
Weight:1Kg
Product Description: We have competitive price with high quality.Pls feel free to send us inquiry to confirm that.
Product introduction
Yokogawa PH8HF, PH8HFF Flow-Through Type Holder
Safety, Protection, and Modification of the Product
• In order to protect the system controlled by the product and the product itself and ensure
safe operation, observe the safety precautions described in this user's manual. We assume
no liability for safety if users fail to observe these instructions when operating the product.
• If this instrument is used in a manner not specified in this user's manual, the protection provided
by this instrument may be impaired.
• Be sure to use the spare parts approved by Yokogawa Electric Corporation (hereafter simply
referred to as YOKOGAWA) when replacing parts or consumables.
• Modification of the product is strictly prohibited.
n Notes on Handling User's Manuals
• Please hand over the user's manuals to your end users so that they can keep the user's
manuals on hand for convenient reference.
• Please read the information thoroughly before using the product.
• The purpose of these user's manuals is not to warrant that the product is well suited to any
particular purpose but rather to describe the functional details of the product.
• No part of the user's manuals may be transferred or reproduced without prior written consent
• YOKOGAWA reserves the right to make improvements in the user's manuals and product at
any time, without notice or obligation.
• If you have any questions, or you find mistakes or omissions in the user's manuals, please
contact our sales representative or your local distributor.
The product is provided on an "as is" basis. YOKOGAWA shall have neither liability nor responsibility
to any person or entity with respect to any direct or indirect loss or damage arising from
using the product or any defect of the product that YOKOGAWA can not predict in advance.
KCl Refillable Type Sensor (PH8ERP)
Measuring range: pH2 to 12
Measuring temperature: -5 to 80°C
(See Table 1 when using holder)
Measuring pressure: Atmospheric pressure to 50 kPa
(See Table 2 when using holder)
Temperature compensation sensor: Pt1000
Body; Ryton (PPS resin), glass, titanium or
Hastelloy C, ceramics, Fluoro rubber
(FKM) or Perfluoroelastomer (FFKM)
Cable; Chlorinated polyethylene rubber (Cable
Weight: Approx. 0.4 kg
If you have any interest on this product,pls feel free to contact me.
Contact Information
Email address:Jackie@hkxytech.com jackie2018@126.com
Whatsapp:+86 15717178751
Skype:Jackie@hkxytech.com
Telegram:+86 15717178751
Phone:+86 15717178751