CATEGORIES
Latest news
Contact us
ADD: UNIT A1.9/F SILVERCORP INTERNATIONAL TOWER707-713 NATHAN ROAD MONGKOK KOWLOON HONGKONG;
TEL: 86-027-85508558,86-15871691193
FAX: 86 027-85309780
E-mail: sales1@hkxytech.com Jackie@hkxytech.com manager@field-instrument.com

  > Distribute Control System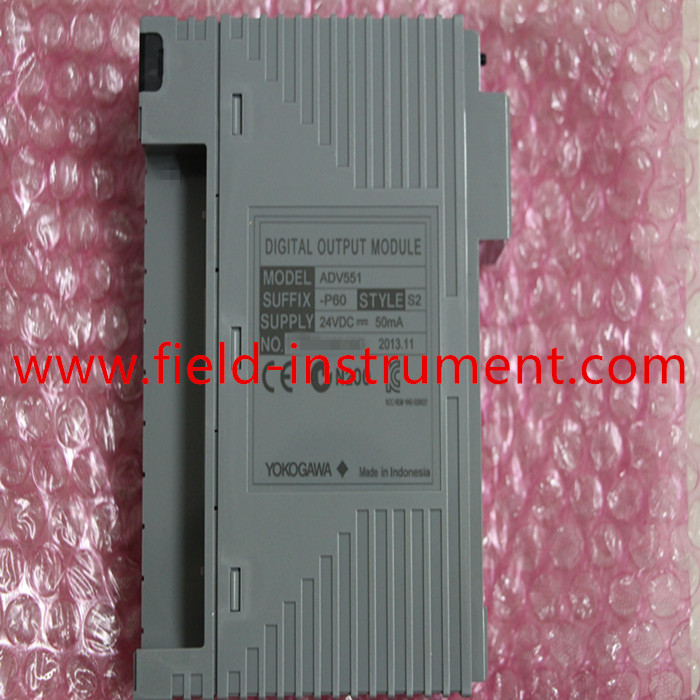 YOKOGAWA ADV551-P00 Analog input Module
Product Model:ADV551-P00
Country of origin:Indonesia
Delivery time:STOCK
Weight:2Kg
Product Description: Our yokogawa Dcs is 100% origin and new.Also we own the good price .We have large stock.Welcome to send the inquiry.
Product introduction
YOKOGAWA Digital Output Module ADV551-P00
s
pecifications:
YOKOGAWA ADV551-P00 Digital Output Module
This document describes about hardware specifications of Analog I/O Modules (for FIO) to be installed in the ESB bus node units (ANB10S and ANB10D), Optical ESB bus node units (ANB11S and ANB11D), ER bus node units (ANR10S and ANR10D) (*1), and field control units (for FIO) (AFV30S, AFV30D, AFV40S, AFV40D, AFV10S,AFV10D, AFF50S, and AFF50D).These analog I/O modules function as signal converters; by inputting field analog signals into these modules,it converts them to internal data for field control stations (FCS), or the FCS's internal data to analog signals for outputs.
YOKOGAWA ADV551-P53
YOKOGAWA ADV551-P00 Digital Output Module
Selected Model
ADV551-P50/D5A00,ADV551-P50/D5S00,ADV551-P50/D5S10,ADV551-P50/D5D00,ADV551-P50/D5D10,ADV551-P50/CCC01
ADV551-P53/D5A00,ADV551-P53/D5S00,ADV551-P53/D5S10,ADV551-P53/D5D00,ADV551-P53/D5D10,ADV551-P53/CCC01
ADV551-P60/D5A00,ADV551-P60/D5S00,ADV551-P60/D5S10,ADV551-P60/D5D00,ADV551-P60/D5D10,ADV551-P60/CCC01
ADV551-P63/D5A00,ADV551-P63/D5S00,ADV551-P63/D5S10,ADV551-P63/D5D00,ADV551-P63/D5D10,ADV551-P63/CCC01
ADV551-PE0/D5A00,ADV551-PE0/D5S00,ADV551-PE0/D5S10,ADV551-PE0/D5D00,ADV551-PE0/D5D10,ADV551-PE0/CCC01
ADV551-PE3/D5A00,ADV551-PE3/D5S00,ADV551-PE3/D5S10,ADV551-PE3/D5D00,ADV551-PE3/D5D10,ADV551-PE3/CCC01
ADV551-PF0/D5A00,ADV551-PF0/D5S00,ADV551-PF0/D5S10,ADV551-PF0/D5D00,ADV551-PF0/D5D10,ADV551-PF0/CCC01
ADV551-PF3/D5A00,ADV551-PF3/D5S00,ADV551-PF3/D5S10,ADV551-PF3/D5D00,ADV551-PF3/D5D10,ADV551-PF3/CCC01
1. 100% original product, 100% quality assurance and the more competitive price.
If you find a fake . Please contact us without hesitation! We afford the shipment cost! We send you a new product asking zero cent!
2. Varied payment methods.
We adopt L/C, D/A, D/P, T/T, and other methods. If you can not trust us , you can choose to pay it via Aliexpress! 100% make your money safe!
Contact details:
Telephone:86-027-85887732
Mobile Phone:86-15717178751
Fax:86-027-85309780
Skype: jackie@hkxytech.com
Whatsapp & Viber are available

Our repertory
YOKOGAWA ADV551-P00 Digital Output Module