CATEGORIES
Latest news
Contact us
ADD: UNIT A1.9/F SILVERCORP INTERNATIONAL TOWER707-713 NATHAN ROAD MONGKOK KOWLOON HONGKONG;
TEL: 86-027-85508558,86-15871691193
FAX: 86 027-85309780
E-mail: sales1@hkxytech.com Jackie@hkxytech.com manager@field-instrument.com

  > Yokogawa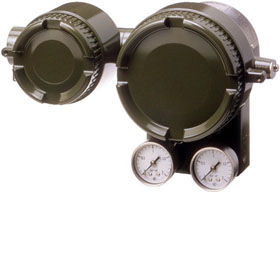 Yokogawa PK200-A63/SS Current-to-Pneumatic Converter
Product Model:Yokogawa PK200-A63/SS
Country of origin:Japan
Delivery time:10 weeks
Weight:5Kg
Product Description: We have very competitive price and special dicount for you.Pls feel free to contact me to comapre the price.
Product introduction
Yokogawa PK200-A63/SS Current-to-Pneumatic Converter
Description
The PK200 current-to-pneumatic (I/P) converter offers a low-cost method to convert a milliamp input (4-20 or 10-50mA analog signals) to a proportional pneumatic (air pressure) output. The unit is designed for a broad range of process control applications, including those that feature pneumatic actuating equipment. PK200-A63/SS
The PK200 features built-in stainless steel input/output gauges. The reliable PK200 performs electronic feedback control while maintaining accuracy of ±0.5 percent of span and linearity of ±0.2 percent of span.
PK200-A63/SS
Built with energy savings in mind, the PK200 consumes only 4 normal liters/minute (4 NL/min) air while providing output air capacity of 110 NL/min. PK200 complements Yokogawa's existing line of Quality Solutions for its North American customers: pressure and temperature transmitters, flowmeters, on-line analyzers, recorders, digital loop controllers and an entire family of distributed control systems.
Yokogawa PK200-A63/SS Current-to-Pneumatic Converter
Features
-Highly accurate signal conversion with minimum effects from process environments
Stainless steel bracket,
PK200-A63/SS
epoxy coating, and other optional specifications allow the PK200 to be used in a variety of applications.
-Highly reliable, accurate electronic feedback
-Energy-saving design for improved economy
PK200-A63/SS
Max. air consumption: 4 Nl/min when air supply pressure is 140 kPa
Max. output air capacity: 110 Nl/min when air supply pressure is 140 kPa
-Excellent operability by access to only one side of the product

Specification
Yokogawa PK200 Current-to-Pneumatic Converter
Linearity

±0.2% of span

Hysteresis

0.2% of span

Repeatability

0.1% of span

Input Signal

4 to 20mA DC /10 to 50mA DC

Air Supply Pressure

140kPa (Standard Output)
240kPa (Doubled output)

Air Consumption

Max. 4 Nl/min. or 0.24 Nm3 /hr at 140 kPa (20 psi) air supply pressure.

Output Air Capacity

Max. 110 Nl/min. or 6.6 Nm3 /hr at 140 kPa (20 psi) air supply pressure.

Output Signal

20 to 100kPa (Standard Output)
40 to 200kPa (Doubled output)

Operating Temperature Limits

-40 to 80 deg C (-40 to 176 deg F) (General use)

Supply Air, Output Signal, Output Gauge Connections

Rc1/4 or 1/4 NPT female

Electrical Connection

G1/2, G3/4, 1/2 NPT or 3/4 NPT female

Mounting

Surface or 2-inch pipe.

Approximate Weight

2.8kg
Yokogawa PK200-A63/SS Current-to-Pneumatic Converter

Model and Suffix Codes
Yokogawa PK200 Current-to-Pneumatic Converter
Model: PK200, Current-to-Pneumatic Converter
Input signal:
-A . . . . . . . . . . . . . . . . . 4 to 20 mA DC
-C . . . . . . . . . . . . . . . . . 4 to 20/10 to 50 mA DC changeable type
Output signal
1 . . . . . . . . . . . . . . Output signal: 20 to 100 kPa Gauge scale: 0 to 200 kPa
2 . . . . . . . . . . . . . . Output signal: 40 to 200 kPa Gauge scale: 0 to 400 kPa
3 . . . . . . . . . . . . . . Output signal: 0.2 to 1 kgf/cm2 Gauge scale: 0 to 2 kgf/cm2
4 . . . . . . . . . . . . . . Output signal: 0.4 to 2 kgf/cm2 Gauge scale: 0 to 4 kgf/cm2
5 . . . . . . . . . . . . . . Output signal: 0.2 to 1 bar Gauge scale: 0 to 2 bar
6 . . . . . . . . . . . . . . Output signal: 0.4 to 2 bar Gauge scale: 0 to 4 bar
7 . . . . . . . . . . . . . . Output signal: 3 to 15 psi Gauge scale: 0 to 30 psi
8 . . . . . . . . . . . . . . Output signal: 6 to 30 psi Gauge scale: 0 to 60 psi
9. . . . . . . . . . . . . . Output signal: 3 to 27 psi Gauge scale: 0 to 60 psi
Connections
1 . . . . . . . . . . . Air connection: Rc1/4 Electric connection: G1/2 female
2 . . . . . . . . . . . Air connection: Rc1/4 Electric connection: G3/4 female
3 . . . . . . . . . . . Air connection: 1/4 NPT female Electric connection: 1/2 NPT female
4 . . . . . . . . . . . Air connection: 1/4 NPT female Electric connection: 3/4 NPT female
Optional codes / Optional specification
Yokogawa PK200-A63/SS Current-to-Pneumatic Converter
PK200
PK200-A11
Email address:Jackie@hkxytech.com jackie2018@126.com
Whatsapp:+86 15717178751
Skype:Jackie@hkxytech.com
Telegram:+86 15717178751
Phone:+86 15717178751