Pepperl+Fuchs SMART Transmitter Power Supply KCD2-STC-Ex1 arrived
SMART Transmitter Power Supply KCD2-STC-Ex1
Features
1-channel isolated barrier

24 V DC supply (Power Rail)

Input for 2-wire SMART transmitters and current sources

Output for 4 mA ... 20 mA or 1 V ... 5 V

Sink or source mode

Housing width 12.5 mm

Up to SIL 2 acc. to IEC 61508
Pepperl+Fuchs SMART Transmitter Power Supply KCD2-STC-Ex1 arrived
Function
This isolated barrier is used for intrinsic safety applications.
The device supplies 2-wire SMART transmitters in a hazardous area, and can also be used with 2-wire SMART current sources.
It transfers the analog input signal to the safe area as an isolated current value.
Digital signals may be superimposed on the input signal in the hazardous or safe area and are transferred bi-directionally.
Selectable output of current source, sink mode, or voltage output is available via DIP switches.
If the HART communication resistance in the loop is too low, the internal resistance of 250 Ω between terminals 6 and 8
can be used.
Test sockets for the connection of HART communicators are integrated into the terminals of the device.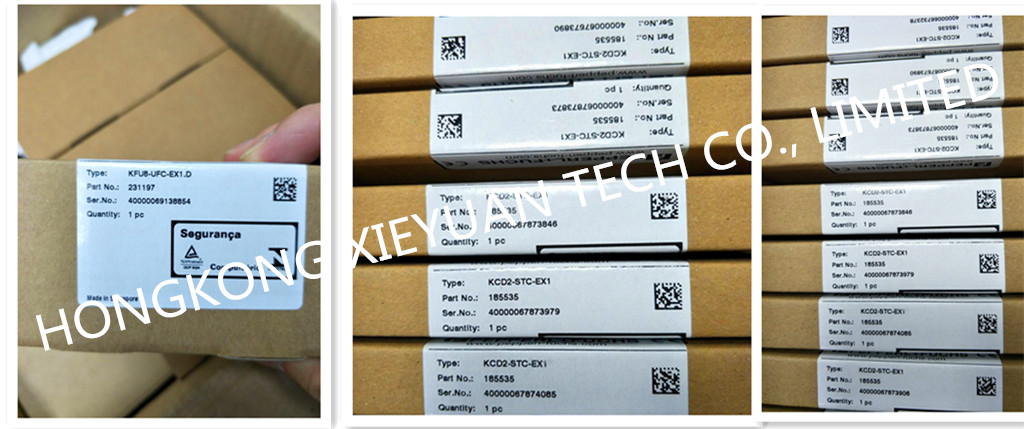 Pepperl+Fuchs SMART Transmitter Power Supply KCD2-STC-Ex1 arrived
Application
The device supports the following SMART protocols:
• HART
• BRAIN
Accessories
Power feed module KFD2-EB2
The power feed module is used to supply the devices with 24 V DC via the Power Rail. The fuse-protected power feed module
can supply up to 150 individual devices depending on the power consumption of the devices. Collective error messages received
from the Power Rail activate a galvanically-isolated mechanical contact.
Power Rail UPR-03
The Power Rail UPR-03 is a complete unit consisting of the electrical insert and an aluminium profile rail 35 mm x 15 mm. To
make electrical contact, the devices are simply engaged.
Pepperl+Fuchs SMART Transmitter Power Supply KCD2-STC-Ex1 arrived
Technical data KCD2-STC-Ex1

Refer to "General Notes Relating to Pepperl+Fuchs Product Information".
Pepperl+Fuchs Group USA: +1 330 486 0002 Singapore: +65 6779 9091 Germany: +49 621 776 2222
www.pepperl-fuchs.com pa-info@us.pepperl-fuchs.com pa-info@de.pepperl-fuchs.com pa-info@sg.pepperl-fuchs.com
General specifications
Signal type Analog input
Functional safety related parameters
Safety Integrity Level (SIL) SIL 2
Supply
Connection Power Rail or terminals 9+, 10-
Rated voltage Ur 19 ... 30 V DC
Ripple ≤ 10 %
Rated current Ir ≤ 45 mA
Power dissipation ≤ 800 mW
Power consumption ≤ 1.1 W
Input
Connection side field side
Connection terminals 1+, 2-; 3+, 4-
Input signal 4 ... 20 mA limited to approx. 30 mA
Open circuit voltage/short-circuit current terminals 1+, 2-: 22 V / 30 mA
Voltage drop terminals 3+, 4- : approx. 5 V
Available voltage terminals 1+, 2-: ≥ 15 V at 20 mA
Output
Connection side control side
Connection terminals 5-, 6+
Load 0 ... 300 Ω (source mode)
Output signal 4 ... 20 mA or 1 ... 5 V (on 250 Ω, 0.1 % internal shunt)
4 ... 20 mA (sink mode), operating voltage 15.5 ... 26 V
Ripple 20 mV rms
Pepperl+Fuchs SMART Transmitter Power Supply KCD2-STC-Ex1 arrived