CATEGORIES
Latest news
Contact us
ADD: UNIT A1.9/F SILVERCORP INTERNATIONAL TOWER707-713 NATHAN ROAD MONGKOK KOWLOON HONGKONG;
TEL: 86-027-85508558,86-15871691193
FAX: 86 027-85309780
E-mail: sales1@hkxytech.com Jackie@hkxytech.com manager@field-instrument.com

  > Drivers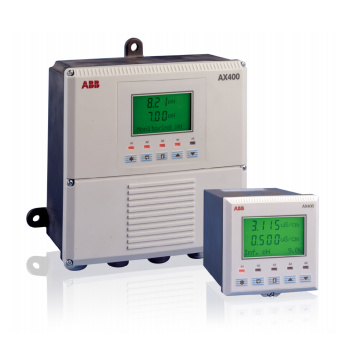 ABB AX413 analyzers for low level conductivity
Product Model:ABB AX413
Country of origin:UK
Delivery time:6-8 weeks
Weight:4Kg
Product Description: We have competitive price and sepecial discount on ABB.Pls feel free to send us inquiry to confirm that.
Product introduction
ABB AX413 Single and dual input analyzers for low level conductivity

Overview
— select one or two conductivity inputs or combine
conductivity and pH/Redox (ORP) in one analyzer
— integral PID controller (AX410)
Reduced installation cost ABB AX413 analyzer
— easy access terminations; reduced panel space
High functionality at minimum cost
—conductivity, resistivity, difference, ratio, % passage, %
rejection and inferred pH calculations
Expanded monitoring and control
—add-on option board provides a total of five alarm relays
and four current outputs
ABB AX413 analyzer
—service logbook providing historical data
Energy saving
ABB AX413 analyzer
—high visibility, backlit display with auto switch-off function
Reduced yearly maintenance costs
—30V DC option negates the need for costly safety tests
Wide range of applicability
ABB AX413 analyzer
— water and waste water treatment
— pulp & paper
Plug-and-Produce Expanded Control
An advanced function card provides an additional two current
outputs and two further alarm relays that can be assigned to
either measured values or sample temperature.
ABB AX413 analyzer
ABB Plug-and-Produce software automatically reconfigures the
analyzer if an option board is added later. No user programming
ABB AX413 analyzer
is necessary.
A real-time clock and logbook are also included,
ABB AX413 analyzer
making the
full-facility versions extremely powerful and versatile.
Significantly Reduced Maintenance Costs
The AX400 Analyzers are supplied as standard for 85 to
265V AC operation. There are no inner switches to set.
They can also be provided for 24V AC or 12 to 30V DC supply
and recognize automatically which of the two supplies is being
used. 24V DC operation reduces maintenance costs
significantly by negating the need for costly, yearly safety tests to
ensure compliance with safety procedures.
The backlit display has been designed to operate in all types of
ABB AX413 analyzer
environments and shows both the measured parameter(s) and,
on a separate 16-character display line, diagnostic and
On dual-input analyzers both measured parameters are
ABB AX413 analyzer
displayed simultaneously.
For conservation of energy, the backlight can be set to switch off
ABB AX413 analyzer
automatically after 60s of inactivity.
Easy Access Installation Terminals
ABB AX413 analyzer
Easy access to the terminations ensures rapid and
cost-effective installation. The wall-/pipe-mount version has
ABB AX413 analyzer
been designed to ensure that cable connection is simple and
convenient. Ingress protection of the electronics section is
retained even when the terminal compartment is opened.
Contact Information
Email address:Jackie@hkxytech.com jackie2018@126.com
Whatsapp:+86 15717178751
Skype:Jackie@hkxytech.com
Telegram:+86 15717178751
Phone:+86 15717178751