CATEGORIES
Latest news
Contact us
ADD: UNIT A1.9/F SILVERCORP INTERNATIONAL TOWER707-713 NATHAN ROAD MONGKOK KOWLOON HONGKONG;
TEL: 86-027-85508558,86-15871691193
FAX: 86 027-85309780
E-mail: sales1@hkxytech.com Jackie@hkxytech.com manager@field-instrument.com

  > Drivers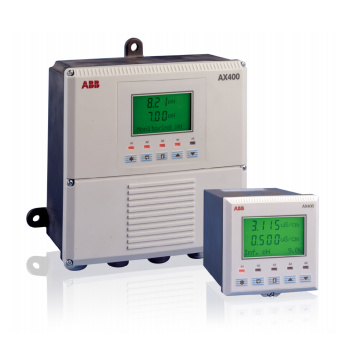 ABB AX418 analyzers for low level conductivity
Product Model:ABB AX418
Country of origin:UK
Delivery time:6-8 weeks
Weight:4Kg
Product Description: We have competitive price and sepecial discount on ABB.Pls feel free to send us inquiry to confirm that.
Product introduction
ABB AX418 Single and dual input analyzers for low level conductivity

Overview
The AX400 analyzers incorporate the latest technology to provide highly reliable, flexible, feature-packed devices that
satisfy a diverse range of process monitoring and control applications. The complete range encompasses solutions for
pH/Redox (ORP), conductivity and dissolved oxygen.Models AX41x and AX45x enable continuous measurements of
one or two low-level conductivity points with simultaneous local display and retransmission. The analyzers are used with ABB 2-electrode conductivity cells providing measurements with exceptional accuracy and performance.Model AX45x analyzers are dedicated to United States Pharmacopoeia <645>.AX400 Series analyzers are available for either wall-/pipe- or panel-mounting and are rated to IP65.
Significantly Reduced Maintenance Costs
The AX400 Analyzers are supplied as standard for 85 to ABB AX418 analyzer
265V AC operation. There are no inner switches to set.
They can also be provided for 24V AC or 12 to 30V DC supply
and recognize automatically which of the two supplies is being
used. 24V DC operation reduces maintenance costs
significantly by negating the need for costly, yearly safety tests to
ensure compliance with safety procedures.
ABB AX418 analyzer
The backlit display has been designed to operate in all types of
environments and shows both the measured parameter(s) and,
on a separate 16-character display line, diagnostic and
computed information.
ABB AX418 analyzer
On dual-input analyzers both measured parameters are
displayed simultaneously.
ABB AX418 analyzer
For conservation of energy, the backlight can be set to switch off
automatically after 60s of inactivity.
ABB AX418 analyzer
ABB AX418 Single and dual input analyzers for low level conductivity
AX41510101
AX41520101
AX41523101
ABB AX418 Single and dual input analyzers for low level conductivity
AX41550101
AX41553101
AX41560101
AX41563101
ABB AX418 Single and dual input analyzers for low level conductivity
Contact Information
Email address:Jackie@hkxytech.com jackie2018@126.com
Whatsapp:+86 15717178751
Skype:Jackie@hkxytech.com
Telegram:+86 15717178751
Phone:+86 15717178751