CATEGORIES
Latest news
Contact us
ADD: UNIT A1.9/F SILVERCORP INTERNATIONAL TOWER707-713 NATHAN ROAD MONGKOK KOWLOON HONGKONG;
TEL: 86-027-85508558,86-15871691193
FAX: 86 027-85309780
E-mail: sales1@hkxytech.com Jackie@hkxytech.com manager@field-instrument.com

  > Drivers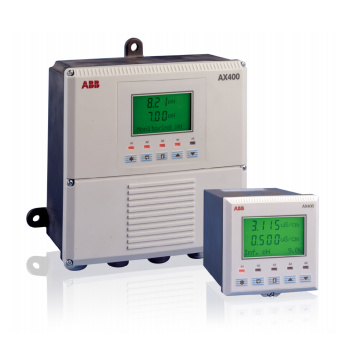 ABB AX433 analyzers for low level conductivity
Product Model:ABB AX433
Country of origin:UK
Delivery time:6-8 weeks
Weight:2Kg
Product Description: We have competitive price and sepecial discount on ABB.Pls feel free to send us inquiry to confirm that.
Product introduction
ABB AX433 Single and dual input analyzers for low level conductivity
Overview
All ABB sensors are supplied pre-calibrated to exacting
tolerances. This enables installation without the need for any
further adjustment. The construction is robust and provides
highly stable measurements over the sensor's lifetime.
The single-point calibration facility enables local adjustment
where on-site validation is required.
Combined Conductivity and pH
The AX416 version measures conductivity and pH with the
same analyzer. The option board provides the capability to
retransmit pH, conductivity and both sample temperatures. Five
programmable alarms can be assigned to suit the needs of the
application, enabling even the most demanding requirements to
be met.
AX450 and AX455 USP <645> Conductivity
AX450 and AX455 analyzers have been developed specifically
with the guidance of major leading pharmaceutical
manufacturers to produce a system fully compliant to
USP<645>.
The US Pharmacopoeia has replaced the off-line qualitative test
of water impurities, such as chloride, with a composite in-line
Stage 1 Test based on conductivity.
To conform to USP<645> the accuracies of the instrument
display and the sensor's cell constant are assured below
specified limits. Each AX450 or AX455 analyzer and Model 2278
cell is supplied with a traceable test certificate.
ABB provides a revalidation facility for the 2278 conductivity cell
where the cell can be returned periodically for re-certification of
the cell constant. This quick turnaround facility fulfills the
stringent certification requirements of today's pharmaceutical
industry.
Maximum acceptable impurity levels are expressed by
USP<645> as uncompensated conductivity at 5°C increments.
The Stage 1 test of PW and WFI requires both parameters to be
checked against the set limits.
The Stage 1 conductivity/temperature limits are stored within the
AX45X analyzer and can be activated on a limit alarm contact.
The alarm can be configured to initiate at a safe working
distance from the Stage 1 limit. This enables assurance of
operation to Stage 1 without manual intervention.
ABB AX433 Single and dual input analyzers for low level conductivity
AX41510101
AX41520101
AX41523101
ABB AX433 Single and dual input analyzers for low level conductivity
AX41550101
AX41553101
AX41560101
AX41563101
ABB AX433 Single and dual input analyzers for low level conductivity
Contact Information
Email address:Jackie@hkxytech.com jackie2018@126.com
Whatsapp:+86 15717178751
Skype:Jackie@hkxytech.com
Telegram:+86 15717178751
Phone:+86 15717178751