CATEGORIES
Latest news
Contact us
ADD: UNIT A1.9/F SILVERCORP INTERNATIONAL TOWER707-713 NATHAN ROAD MONGKOK KOWLOON HONGKONG;
TEL: 86-027-85508558,86-15871691193
FAX: 86 027-85309780
E-mail: sales1@hkxytech.com Jackie@hkxytech.com manager@field-instrument.com

  > Honeywell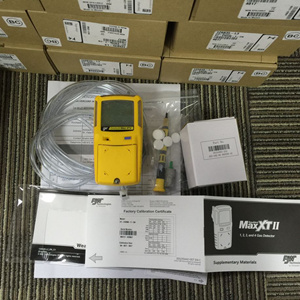 BW CLIP REAL TIME 2 YEAR H2S Gas DETECTOR BWC2R-H
Product Model:BWC2R-H
Country of origin:Mexico
Delivery time:Stock
Weight:2Kg
Product Description: We have very competitive price and special dicount for you.Pls feel free to contact me to comapre the price.
Product introduction
BW CLIP REAL TIME 2 YEAR H2S Gas DETECTOR BWC2R-H
Overview
BW CLIP REAL TIME 2 YEAR H2S Gas DETECTOR BWC2R-H
The BW Clip Real Time 2 Year h2s monitor is a lightweight and easy to handle single gas detector for hydrogen sulfide. Designed for a wide range of harsh environments and extreme temperatures, this H2S monitor has the default alarm setpoints at 10 ppm to 15 ppm. BW Clip Real Time includes a real-
BWC2R-H
time gas level display and the ability to calibrate the device. It provides two years maintenance-free operation: just turn on the device, and it runs continuously. There is no need for sensor replacement and battery charging or replacement. You can also put the device in a BW Clip Hibernation Case when you're not using it, and extend its life by that period of time - great for the turnarounds, short-term projects and employee leave. It is based on Surecell
and Reflex Technology
. Surecell
is a unique dual reservoir sensor design that dramatically improves instrument performance, response time, and longevity. Reflex Technology
BWC2R-H
is an advanced automated internal test function that routinely checks the operating condition of the sensor to increase safety, uptime, and overall worker confidence.
BW CLIP REAL TIME 2 YEAR H2S Gas DETECTOR BWC2R-H
Key Features:

Default alarm setpoints: 10-15 ppm

Alarm setpoints range: 1.6-20 ppm

Measuring range: 0-100 ppm

Temperature: -40 to +122°F

Humidity: 5% - 95% RH (non-condensing)

Alarm: visual, vibrating, audible (95 dB), low, high

Wide-angle flash, which alerts simultaneously with audible and vibrating alarm

Automated self-test of battery, sensor, and electronics

Automatic logging of the 35 most recent gas events,
BWC2R-H
bump test and calibration results
Ingress Protection: IP 66/67

Battery life: 2 years
BWC2R-H
Hibernation capable

Surecell
and Reflex Technology


Compatible with the IntelliDoX and the MicroDock II instrument management systems (with updated Firmware)
BW CLIP REAL TIME 2 YEAR H2S Gas DETECTOR BWC2R-H
Compatible with hands-free Hard Hat Clipcarrying accessory

Certifications: Class I, Div. 1, Gr. A, B, C, D, Class I, Zone 0, Gr. IIC; Ex ia IIC T4 Ga IP66/67, IECEx UL 14.0063, Ex ia IIC T4 Ga IP66/67, DEMKO 14 ATEX 1356, CE European Conformity
BW CLIP REAL TIME 2 YEAR H2S Gas DETECTOR BWC2R-H
Other Models
BWC2-H BWC2-H510 BWC2-H515 BWC2-M
BWC2-M50200 BWC2-X BWC2-S BWC2-S24
BWC2-H-B50 BWC3-H BWC3-M BWC2R-M
MCXL-XWHM-Y-NA BWC4-Y-N MCX3-XWHM-Y-NA XWHM-R-Y-NA
M5-XW0Y-R M5PID-XWQY XT-XWHM-Y-NA BWC2-M50200
BWC2R-X BWC2R-H GAXT-X-DL-2 GAXT-P-DL
GAXT-A-DL GAXT-A2-DL GAXT-C-DL GAXT-D-DL
GAXT-H-DL BWC2R-M25100 BWC2R-S M5IR-XWBY-R
GAXT-S-DL BWC3R-M BWC3R-H BWC2R-S24
BWC2-S24 BWC4-B-N MCXL-XWHM-Y-NA XT-XWHM-Y-NA
GAXT-H-2-DL GAXT-N-DL GAXT-G-DL GAXT-M2-DL
Email address:Jackie@hkxytech.com jackie2018@126.com
Whatsapp:+86 15717178751
Skype:Jackie@hkxytech.com
Telegram:+86 15717178751
Phone:+86 15717178751