CATEGORIES
Latest news
Contact us
ADD: UNIT A1.9/F SILVERCORP INTERNATIONAL TOWER707-713 NATHAN ROAD MONGKOK KOWLOON HONGKONG;
TEL: 86-027-85508558,86-15871691193
FAX: 86 027-85309780
E-mail: sales1@hkxytech.com Jackie@hkxytech.com manager@field-instrument.com

  > MTL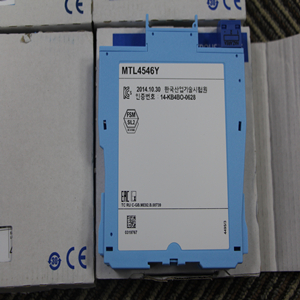 MTL4546Y MTL4546C MTL5546Y ISOLATING DRIVER
Product Model:MTL4546C
Country of origin:UK
Delivery time:6-8 weeks
Weight:0.5Kg
Product Description: We have competitive price and sepecial discount on MTL.Pls feel free to send us inquiry to confirm that.
Product introduction
MTL4546Y
MTL4546C MTL5546Y ISOLATING DRIVER for 4–20mA HART valve positioners with line fault detection
Overview
The MTLx546 accepts a 4/20mA floating signal from a safe-area controller
to drive a current/pressure converter (or any other load up to 800Ω) in a
hazardous area. For HART valve positioners, the module also permits
bi-directional transmission of digital communication signals. Process
controllers with a readback facility can detect open or short circuits in
the field wiring: if these occur, the current taken into the terminals drops
to a preset level. The MTL4546C and the MTLx546Y are very similar
to the MTLx546 except that they provide open circuit detection only
(i.e. no short-circuit detection).
See also common specification
Location of I/P converter
Zone 0, IIC, T4–6 hazardous area if suitably certified
Div. 1, Group A, hazardous location
90Ω (short-circuit detection at < 50Ω)
Under/over range capability
Over range = 24mA (load ≤ 520Ω)
Input and output circuit ripple
Transfer accuracy at 20°C
< 1.0μA/°C
Settles within 200μA of final value within 100ms
Maximum current consumption (with 20mA signals into 250Ω load)
Power dissipation within unit (with 20mA signals into 250Ω load)
Vo=28V Io=93mA Po=651mW Um = 253V rms or dc
These models have been assessed for use in IEC 61508 functional
safety applications. See data on MTL web site.

Related model
MTL4546C
MTL4546Y
MTL5042
MTL7056AC
MTL7787+
Contact Information
Email address:Jackie@hkxytech.com jackie2018@126.com
Whatsapp:+86 15717178751
Skype:Jackie@hkxytech.com
Telegram:+86 15717178751
Phone:+86 15717178751