CATEGORIES
Latest news
Contact us
ADD: UNIT A1.9/F SILVERCORP INTERNATIONAL TOWER707-713 NATHAN ROAD MONGKOK KOWLOON HONGKONG;
TEL: 86-027-85508558,86-15871691193
FAX: 86 027-85309780
E-mail: sales1@hkxytech.com Jackie@hkxytech.com manager@field-instrument.com

  > MTL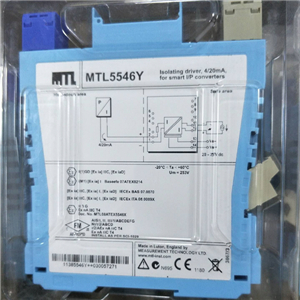 MTL5546Y ISOLATING DRIVER MTL 5546Y ISOLATING DRIVER
Product Model:MTL5546Y
Country of origin:UK
Delivery time:Stock
Weight:0.5Kg
Product Description: We have competitive price and sepecial discount on MTL.Pls feel free to send us inquiry to confirm that.
Product introduction
MTL5546Y ISOLATING DRIVER MTL 5546Y ISOLATING DRIVER
MTL5546Y ISOLATING DRIVER MTL 5546Y ISOLATING DRIVER
The MTLx546 accepts a 4/20mA floating signal from a safe-area controller to drive a current/pressure converter (or any other load up to 800Ω) in
a hazardous area. MTL5546 For HART valve positioners,MTL5546 the module also permits bi-directional transmission of digital communication signals. Process controllers MTL5546Y
with a readback facility can MTL5546 detect open or short circuits in the field wiring: if these occur, the current taken into the MTL5546 terminals drops to a preset level. The MTL4546C and the MTLx546Y are very similar to the MTL5546 except that they provide open circuit detection only (i.e. no short-circuit).
MTL5546Y ISOLATING DRIVER MTL 5546Y ISOLATING DRIVER
SPECIFICATION
See also common specification
Number of channels MTL5546Y
One MTL5546Y
Location of I/P converter
Zone 0, IIC, T4–6 hazardous area if suitably certified
Div. 1, Group A, hazardous location
Working range
4 to 20mA
MTL5546Y ISOLATING DRIVER MTL 5546Y ISOLATING DRIVER
Digital signal bandwidth
500Hz to 10kHz
Maximum load resistance
800Ω (16V at 20mA)
Minimum load resistance
90Ω (short-circuit detection at < 50Ω)
Output resistance
> 1MΩ
MTL5546 ISOLATING DRIVER MTL 5546 ISOLATING DRIVER
Under/over range capability
Under range = 1mA MTL5546Y
Over range = 24mA (load ≤ 520Ω)
Input and output circuit ripple
< 40µA peak-to-peak
Transfer accuracy at 20°C
Better than 20µA
Temperature drift
< 1.0µA/°C
MTL5546Y ISOLATING DRIVER MTL 5546Y ISOLATING DRIVER
MTL4546C
MTL4546Y
MTL5546
MTL5546Y
We have good price on yokogawa DCS,yokogawa transmitter,yokogawa analyzer yokogawa flowmeter.ABB(Pressure transmitter,analyzer,Low voltage products),
Honeywell(pressure transmitter,analyzer,DCS,Gas detector),Rosemount(pressure transmitter,analyzer,
flowmeter),MTL( safety barrier),P+F( safety barrier),Norgren(Values,
Regulator)
Schneider,Weidmuller terminal blocks,Festo,Pnoenix contactor etc.
Also We have Emerson 475 field communicators in ready stock, such as 475FP1EKLUGMTS, 475HP1EKLUGMTS, 475HP1EKLUGMT, 475HP1ENA9GMTS
and some more, new and original from Emerson Germany.Any inquiry about our scope,pls feel free to contact me.