CATEGORIES
Latest news
Contact us
ADD: UNIT A1.9/F SILVERCORP INTERNATIONAL TOWER707-713 NATHAN ROAD MONGKOK KOWLOON HONGKONG;
TEL: 86-027-85508558,86-15871691193
FAX: 86 027-85309780
E-mail: sales1@hkxytech.com Jackie@hkxytech.com manager@field-instrument.com

  > MTL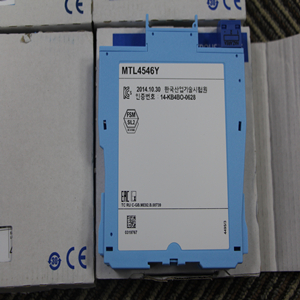 MTL MTL5018AC SWITCH PROXIMITY DETECTOR INTERFACE
Product Model:MTL5018AC
Country of origin:UK
Delivery time:6-8 weeks
Weight:0.5Kg
Product Description: We have competitive price and sepecial discount on MTL.Pls feel free to send us inquiry to confirm that.
Product introduction
MTL MTL5018AC SWITCH PROXIMITY DETECTOR INTERFACE MTL5018AC
Overview
The MTL5018ac enables two safe-area loads to be controlled by
two switches or proximity detectors located in a hazardous area.
Two relay outputs are provided. Independent phase reversal control
allows an alarm condition to be signalled for either state of the sensor.
A selectable line fault detect (LFD) facility detects an open or short
circuit in either field circuit.
See also common specification
Zone 0, IIC, T4–6 hazardous area
Div. 1, Group A hazardous location
Two relays with changeover contacts
Inputs conforming to NAMUR/DIN 19234 standards for proximity
Voltage applied to sensor
Input/output characteristics
output energised (de-energised) if Iin >2.1mA or Rin <2kΩ
output de-energised (energised) if Iin <1.2mA or Rin >10kΩ
Hysteresis: 200μA, typical
Line fault detection (LFD)
User-selectable via switches on the top of the unit. Line
faults are indicated by an LED for each channel. A detected line
fault de-energises the relay.
Open-circuit alarm on if Iin <100μA
Open-circuit alarm off if Iin >250μA
Short-circuit alarm on if Rin <100Ω
Short-circuit alarm off if Rin >360Ω
Note: Resistors must be fitted when using the LFD facility with a
500Ω to 1kΩ in series with switch
20kΩ to 25kΩ in parallel with switch
Independent for each channel, user-selectable
Single pole, changeover contacts
Note: reactive loads must be adequately suppressed
Response time: 10ms maximum
Contact rating: 250V ac, 2A, cosø >0.7
40V dc, 2A, resistive load
Yellow: two: status of each channel (on when outputs are
Red: two: LFD indication for each channel (on when line
Maximum power dissipation
250V ac or dc between power supply, hazardous-area circuits
Safety description (each channel)
10.5V, 800Ω, 14mA, Um= 250V rms or dc
45 to 65 Hz
Contact Information
Email address:Jackie@hkxytech.com jackie2018@126.com
Whatsapp:+86 15717178751
Skype:Jackie@hkxytech.com
Telegram:+86 15717178751
Phone:+86 15717178751