CATEGORIES
Latest news
Contact us
ADD: UNIT A1.9/F SILVERCORP INTERNATIONAL TOWER707-713 NATHAN ROAD MONGKOK KOWLOON HONGKONG;
TEL: 86-027-85508558,86-15871691193
FAX: 86 027-85309780
E-mail: sales1@hkxytech.com Jackie@hkxytech.com manager@field-instrument.com

  > MTL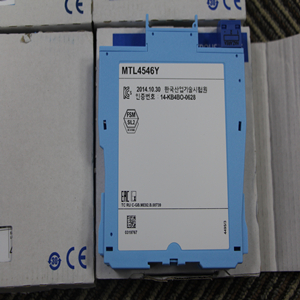 MTL5522 SOLENOID ALARM DRIVER MTL5522
Product Model:MTL5522
Country of origin:UK
Delivery time:Stock
Weight:0.5Kg
Product Description: We have competitive price and sepecial discount on MTL.Pls feel free to send us inquiry to confirm that.
Product introduction
MTL5522 SOLENOID ALARM DRIVER MTL5522
Overview
The MTL5522 is a loop-powered module which enables a device
located in the hazardous area to be controlled from the safe area. The
MTL5522 can drive a certified intrinsically safe low-power load, as well
as non-energy-storing simple apparatus such as an LED. The unit's
input/output isolation allows the control switch to be connected into
either side of the 24V dc supply circuit.
Zone 0, IIB, T4–6 hazardous area if suitably certified
Div. 1, Group C hazardous location
Minimum output voltage Equivalent output circuit
Minimum output voltage: 10.7V at 70mA
Maximum output voltage: 24V from 158Ω
Current limit: 70mA minimum
< 0.5% of maximum output, peak to peak
Output within 10% of final value within 100ms
Yellow: output status, on when output active
Maximum current consumption
Power dissipation within unit
Uo=25V Io=166mA Po=1.04W Um = 253V rms or dc
These models have been assessed for use
IEC 61508 functional safety applications.
SIL3 capable for a single device (HFT=0)
when the required function is to deenergise
SIL1 capable for a single device (HFT=0)
when the required function is to energise
See data on MTL web site and refer to the
safety manual.
Related model
MTL4546C
MTL4546Y
MTL5042
MTL7056AC
MTL7787+
Contact Information
Email address:Jackie@hkxytech.com jackie2018@126.com
Whatsapp:+86 15717178751
Skype:Jackie@hkxytech.com
Telegram:+86 15717178751
Phone:+86 15717178751