CATEGORIES
Latest news
Contact us
ADD: UNIT A1.9/F SILVERCORP INTERNATIONAL TOWER707-713 NATHAN ROAD MONGKOK KOWLOON HONGKONG;
TEL: 86-027-85508558,86-15871691193
FAX: 86 027-85309780
E-mail: sales1@hkxytech.com Jackie@hkxytech.com manager@field-instrument.com

  > MTL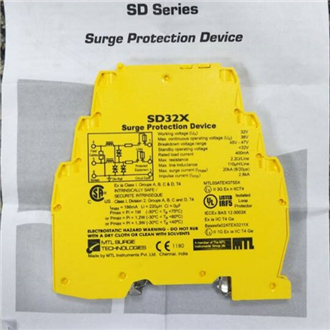 MTL MTLSD32X surge protection MTL SD32X
Product Model:MTLSD32X
Country of origin:UK
Delivery time:Stock
Weight:0.5Kg
Product Description: We have competitive price and sepecial discount on MTL.Pls feel free to send us inquiry to confirm that.
Product introduction
MTL MTLSD32X surge protection MTL SD32X
Overview
MTL MTLSD32X surge protection MTL SD32X
• Range of ATEX Certified intrinsically
• Ultra-slim space-saving design;
• Multistage hybrid protection circuitry – 20kA
• Range of voltage ratings – to suit all
• High bandwidth, low resistance, RTD, PSTN
and 3-wire transmitter versions available
• 10 year product warranty
MTL MTLSD32X surge protection MTL SD32X
The SD range is a series of surge protection devices combine
unparalleled packing densities, application versatility, proven
reliable hybrid circuitry, simple installation and optional 'loop
disconnect' facilities – features which make the range the ultimate
surge protection solution for process equipment, I/O systems and
communications networks.
MTL MTLSD32X surge protection MTL SD32X
The exceptionally high packing densities are the consequence
of an ultra slim 'footprint' for individual modules which can thus
'double-up' as feedback terminals. Each module provides full
hybrid surge protection for 2 and 3 wire loop protection.
Modules with a comprehensive range of voltage ratings cover
all process related signals such as RTDs, THCs, 4 to 20mA loops,
telemetry outstations, shut-down systems and fire and gas
detectors.
MTL MTLSD32X surge protection MTL SD32X
Optional 'loop disconnect', is a feature which allows
commissioning and maintenance to be carried out without
removal of the surge protection device. This facility is provided
by the SD07, SD16, SD32 and SD55 units. In addition, a third
connection on the field and safe side of the protector is provided
in order to terminate screens safely.
Ultra-slim user-friendly devices for
protecting electronic equipment
and systems against surges on signal
and I/O cabling.
MTL MTLSD32X surge protection MTL SD32X
For three wire applications the specially designed SDRTD
(Resistance Temperature Detector) and the SD32T3, (for separately
powered 4-20mA loops) provide full 3-wire protection in a single
compact unit. The recommended choice for the protection of
3-wire pressure transducers on low power circuits is the SD07R3.
For higher bandwidth applications, the SDR range has been
developed to meet the demands of today's highest speed
120V and 240V AC versions are available for I/O and power
supplies up to three Amps of load current and telephone networks
can be protected by the SDPSTN.
One simple manual operation clamps modules securely onto DIN
rail, which automatically provides the essential high-integrity
'Top-hat' (T-section) DIN rail is generally suitable for mounting SD
modules although for adverse environments, a specially-plated
version is available. A comprehensive range of mounting and
earthing accessories can also be supplied, see page 7 for further
MTL MTLSD32X surge protection MTL SD32X