CATEGORIES
Latest news
Contact us
ADD: UNIT A1.9/F SILVERCORP INTERNATIONAL TOWER707-713 NATHAN ROAD MONGKOK KOWLOON HONGKONG;
TEL: 86-027-85508558,86-15871691193
FAX: 86 027-85309780
E-mail: sales1@hkxytech.com Jackie@hkxytech.com manager@field-instrument.com

  > Analyzer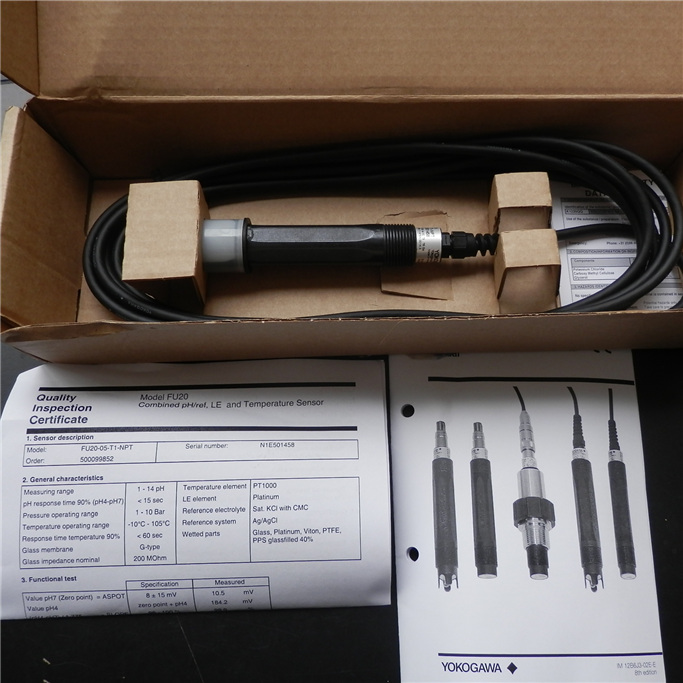 Yokogawa FU20 pH/ORP Sensor FU20 PH Sensor
Product Model:
Country of origin:
Delivery time:
Weight:
Product Description: We have competitive price with high quality.Pls feel free to send us inquiry to confirm that.
Product introduction
Yokogawa FU20 pH/ORP Sensor FU20 Sensor
The Model FU20 offers a simple and cost effective solution for a wide variety of waste water and
process applications. This all-in-one sensor provides simultaneous measurement of pH, ORP
and temperature. The rugged Ryton body is designed for easy installation into on-line via the 3/4
inch tapered threaded connections provided on both ends of the sensor.
Measuring range: pH; 2 to 12 ORP; -1500 to 1500 mV
Solution temperature : -5 to 105°C (sensor only, sample is not freezed)
Solution pressure : 0 to 1 MPa (sensor only)
Solution conductivity : 50 µS/cm or higher
Solution flow velocity : 2 m/s max.
Internal electrolyte: Saturated KCl (Non refillable)
Temperature sensor : Pt1000 (Note)
Body materials: Ryton (PPS 40GF)
Weight: Approx. 0.5 kg (Body)
Storage temperature: -10 to 50 °C
Applicable Liquid Analyze/converter: FLXA202/FLXA21 2-Wire Liquid Analyze,
Applicable holder: Special order for PH8HG, HH350G with optional adapter, cannot be
Installation
For optimum measurement results, the FU20 should be installed in a location that offers an
acceptable representation of the process composition and DOES NOT exceed the specifications
This sensor should be installed rain-proof or drip-proof area where rainwater cannot get inside
through the cable inlet/outlet, because insulation of sensor will be decreased due to exposure to
rain or due to condensation at a high humid place.
Take care that screw-in force is not too large.
Special orderis needed for using with PH8HG drop-in guide pipe.
FU20-05-T1-NPT
FU20-10-T1-NPT
If you have any interest on this product,pls feel free to contact me.
Contact Information
Email address:Jackie@hkxytech.com jackie2018@126.com
Whatsapp:+86 15717178751
Skype:Jackie@hkxytech.com
Telegram:+86 15717178751
Phone:+86 15717178751